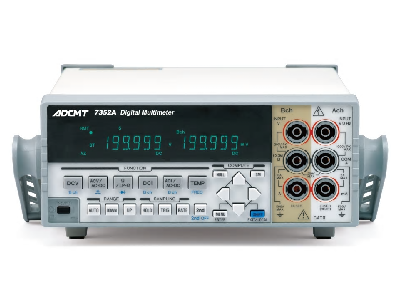 Evolution from Dual to TWIN! Open up a new age of digital multimeters by real two-channel synchronous measurement
The 7352A and the 7352E are the next-generation digital multimeters equipped with twin-A/D converters that enable fully-independent measurement of two-channel signals. These multimeters are suitable for high-speed measurement, parallel measurement of different functions and multi-channel measurement by configuring a system.
The channel A (Ach) has basic measurement functions including DC voltage/current, AC voltage/current, resistance and frequency measurement functions, while the channel B (Bch) has DC voltage/current, AC current and temperature measurement functions. Thus, higher throughput can be obtained with Ach/Bch synchronous measurement or Ach/Bch parallel measurement of different functions.
Furthermore, the dynamic range of current measurement has been broadened significantly, enabling measurement from low current of 10pA to large current of 10A.
The 7352A is equipped with a RS-232 interface in addition to USB and GPIB interfaces as standard for use in R&D and production lines. The 7352E is equipped with a USB interface as standard for low-cost system configuration.
The remote command language not only complies with the conventional ADC commands and SCPI, but also is compatible with that of the digital multimeter R6452A.
Features
Maximum display : 199999/199999
Measurement function :
Ach: DC voltage, AC voltage, DC current, DC current, resistance, low-power resistance, frequency, diode, continuity
Bch: DC voltage, DC current, AC current
Rear input: temperature
Sampling rate (rdgs/s) :
Single measurement: FAST: 140, MED: 40 (50Hz)/46 (60Hz)
Parallel measurement: FAST: 123, MED: 38 (50Hz)/43.5 (60Hz)
DC voltage measurement :
Accuracy: 110ppm + 2 digits
Resolution: 1μV (Ach/Bch)
DC current measurement range :
Ach: 10pA to 2A
Bch: 100μA to 10A
AC voltage/current measurement :
AC voltage measurement: 20Hz to 100kHz (Ach)
AC current measurement: 20Hz to 5kHz (Ach/Bch)
Interface :
7352A: GPIB, RS232, USB, external trigger
7352E: USB
A variety of calculation functions
ACCEESSORIEES
Standard Accessories
| | |
| --- | --- |
| A01402 | Power Cable (JIS 2m) |
| CC010001 | Input Cable (test probe 1m) |
Optional Accessories
| | |
| --- | --- |
| 1101-100 | Sheath-type Thermocouple (T-type/CC) |
| 1101-130 | Sheath-type Thermocouple (K-type/CA) |
| A01001 | Input Cable (general-purpose, with tester probes) |
| CC015001 | Alligator Clip Adapter (for CC010001) |
| A02039 | Panel Mount Set (2U) |
| A02040 | Panel Mount Set (2U twin) |
| A02263 | Rack Mount Set (JIS 2U) |
| A02264 | Rack Mount Set (JIS 2U twin) |
| A02463 | Rack Mount Set (EIA 2U) |
| A02464 | Rack Mount Set (EIA 2U twin) |