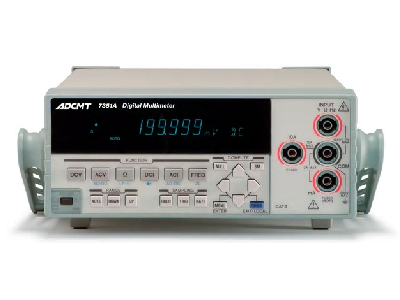 Low-price 5 1/2-digit DMM for general-purpose applications
The 7351A, the 7351E and the 7351E+03 are 5 1/2-digit digital multimetersfor a wide range of measurement applications covering use in R&D andproduction lines.
The 7351A is equipped with GPIB and USB interfaces, the 7351E with a USBinterface and the 7351E+03 with USB and RS232 interfaces.
The 7351 series realizes 46 readings per second (60Hz) at integration timeof 1 PLC that is the highest sampling rate in this class, contributingto the takt time reduction and the quality improvement in production lines.In addition, these models are capable of easy measurement data transferthrough a laptop computer with the USB interface, so that they providesmart data analysis in R&D as well as production lines.
Digital Multimeter
Model:
7351A/7351E/7351E+03
Features
Maximum display : 199999
Measurement resolution: DC voltage of 1μV, DC current of 1μA, resistance of 100μΩ
Sampling rate :
FAST: 140 readings/sec
MED (50Hz): 40 readings/sec,
MED (60Hz): 46 readings/sec
Current measurement range: 200mA, 2000mA, 10A
AC measurement: AC voltage of 20Hz to 100kHz, AC current of 20Hz to 5kHz
Interface : USB, GPIB (7351A only), RS232 (7351E+03 only)
Trigger signal input, complete signal output (7351A, 7351E+03)
Comparator output (7351E+03 only)
Low-power resistance measurement
A variety of calculation functions
ACCEESSORIEES
Standard Accessories
| | |
| --- | --- |
| A01402 | Power Cable (JIS 2m) |
| CC010001 | Input Cable (test probe 1m) |
Optional Accessories
| | |
| --- | --- |
| A01001 | Input Cable (general-purpose, with tester probes) |
| CC015001 | Alligator Clip Adapter (for CC010001) |
| A02039 | Panel Mount Set (2U) |
| A02040 | Panel Mount Set (2U twin) |
| A02263 | Rack Mount Set (JIS 2U) |
| A02264 | Rack Mount Set (JIS 2U twin) |
| A02463 | Rack Mount Set (EIA 2U) |
| A02464 | Rack Mount Set (EIA 2U twin) |