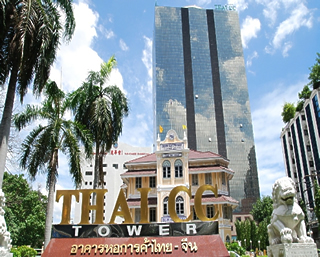 We are a leading company in Electronic Measurement Industry, which has top share in sales amount in Japan. We have recorded our growth and achieved outstanding results with cooperation and mutual reliance through years with Users and Suppliers. We invest in future with our knowledge, information, creativity and ingenuity, which are supported by our continuous endeavors to comprehend trends and dynamics in cutting-edge technologies. Our strength is our steadiness and solidity among this business through strategic foresight we have made.
Since its establishment, Nihon Denkei has consistently been dealing with various types of electronic measuring instruments and systems made by various companies for more than 60 years.In order to satisfy customer's needs, we are offering our accumulated know-how by utilizing more than 5000 business partners' relationships. Please feel free to ask us for quotation or anything about measuring instruments!
Nihon Denkei Co., Ltd. Thailand Branch started operation in Thailand on May 1997.
The company's head office in Japan was founded in 1950's specializing in the distribution of Electronic Test and Measuring equipment's. Today, Nihon Denkei is a major sales distributor with its Global Sales Network presence in China, Korea, Taiwan, India, Thailand, Malaysia, Vietnam, Philippines, Indonesia and Singapore. In addition to sales, the company has established technical service centres to give customers better local support.
Corporate Profile
Registered Trade Name
Nihon Denkei (Thailand) Co.,Ltd.
บริษัท นิฮอนเดนเคย์ (ประเทศไทย) จำกัด
Office
43 Thai CC Tower, 30th Fl., Room 304-305, South Sathorn Rd.,Yannawa, Sathorn, Bangkok 10120 Thailand
43 อาคารไทยซีซีทาวเวอร์ ชั้น 30 ห้อง 304-305 ถนนสาทรใต้, ยานนาวา, เขตสาทร, กรุงเทพฯ 10120 ประเทศไทย
Phone
02-6755688~91, 02-672-3014~5
Fax
02-6755692
Representative Directors
Mr. Takao Kusuhara
ทาคาโอะ คุสุฮาระ
Main Line of Business
Electronic measuring instruments, communication measuring instruments, computers and computer supplies, automate and labor-saving machines, physics and chemistry measuring equipments, industrial application instruments, production process measuring instruments, environmental testing instruments, photonic measuring instruments, educational laboratory equipments, power supplies, software products (planning, designing and manufacturing), measuring and testing jigs (planning, designing and manufacturing), electronic components, mechanical parts.

ตัวแทนจำหน่ายและบริการหลังการขาย (ซ่อม,ติดตั้ง สอบเทียบ) เครื่องมือวัดอิเล็กทรอนิกส์ เครื่องมือวัดด้านการสื่อสาร คอมพิวเตอร์อุปกรณ์คอมพิวเตอร์โดยอัตโนมัติ และเครื่องช่วยประหยัดพลังงานไฟฟ้า อุปกรณ์เครื่องมือวัดด้านเคมี เพื่อการนำไปประยุกต์ใช้ในงานอุตสาหกรรมเครื่องมือวัดการผลิต เครื่องมือการทดสอบด้านสิ่งแวดล้อมเครื่องมือวัดแสง สี เสียง อุปกรณ์การศึกษาในระดับห้องปฏิบัติการไฟฟ้า, ผลิตภัณฑ์ด้านซอฟต์แวร์ (การวางแผนการออกแบบและการผลิต) เครื่องมือวัดและทดสอบอุปกรณ์ (การวางแผนการออกแบบและการผลิต) ชิ้นส่วนอิเล็กทรอนิกส์ชิ้นส่วนเครื่องจักรกล
Company History Timeline
| | | |
| --- | --- | --- |
| 1997 | May | Nihon Denkei (Thailand) Co., Ltd is founded in Thailand |
| 2006 | Feb | Leam Chabang branch opened |