To answer the Increasing demand & Innovation of developing energy saving technologies in the field of power electronics such as inverters and electronic vehicle parts.
By using wide Gap semiconductor parts such as Sic & GaN, which is the next generation power semiconductor products. Accurate measurement is greatly needed.
What Can Curve Tracers Measure
---
Semiconductor parts such as… IGBTs, MOSFETs, Transistors, Diodes, LEDs etc.
Measurement points that is … Semiconductors are evaluated by
"Current (I) – Voltage (V)"

For example, "Current – Voltage" characteristics of the MOSFET have four kinds of areas, ON area, OFF area, Saturation area and Breakdown area.
Characteristics of these four areas can be observed by the Curve Tracer.
Measurable Characteristics
V(BR)DSS, Drain to source breakdown voltage
IDSS, Zero gate voltage drain current
IGSS, Gate to source leakage current
VGS, Gate to source cutoff voltage
RDS, Static drain to source on state resistance
VDF, Body drain diode forward voltage
Vth, Gate threshold voltage
Compatible Models
---
Functions, Jigs and user interface is compatible with discontinued models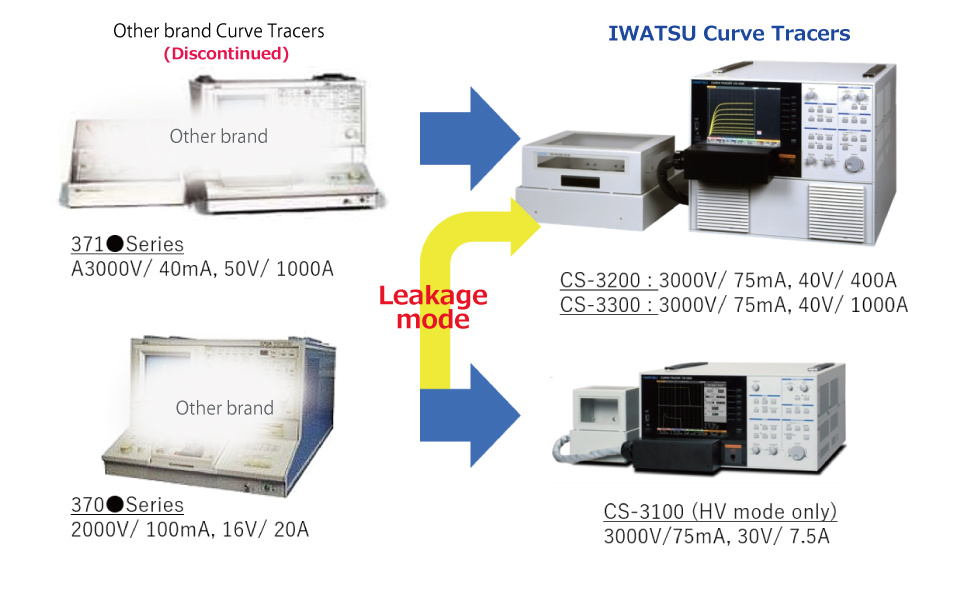 Product Line-up
---
Optional Test Adapters for Packaged discrete devices.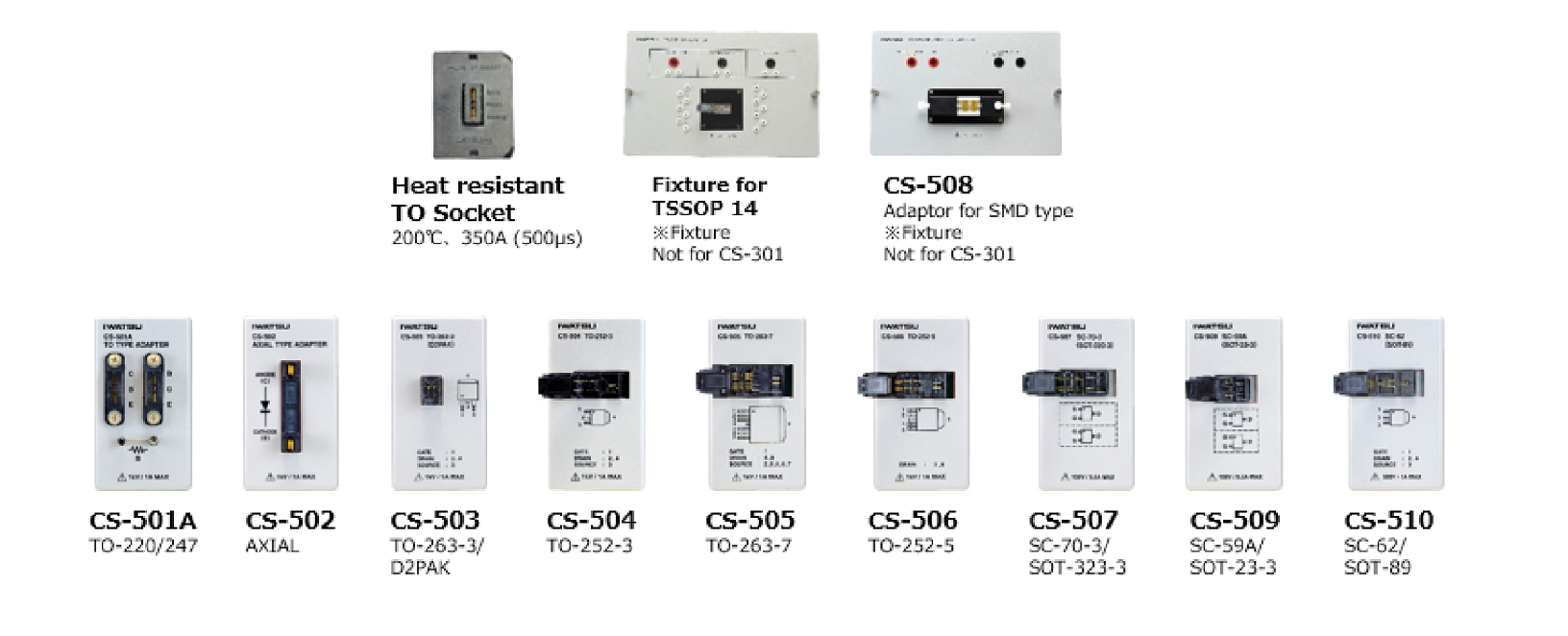 ※1 Please tell us how to connect pin #1, #2, #4 and #5 when you order "CS-506".
※2 Depending on the DUT, packages could not fit to our test adapters. Please contact us to make sure if your DUT fits to our test adapter before you purchase.
Optional Software CS-800
CS-800 Semiconductor Parameter search (built in option)
LIMIT SWEEP
Semi-Automatic SWEEP measurement is performed after set the Vertical and the Horizontal limit.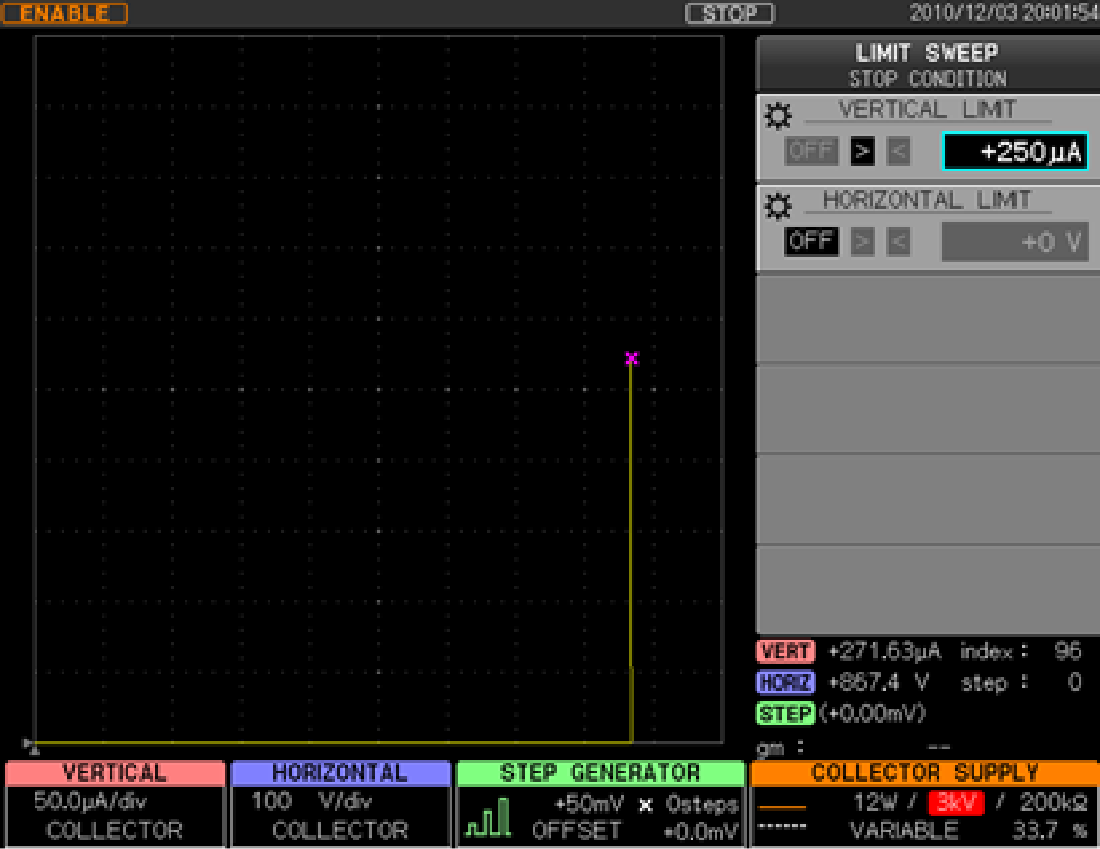 Example of MOSFET breakdown voltage measurement
Vth/hFE SETUP
Semi-Automatic Vth, hFE measurement is performed after set the parameter.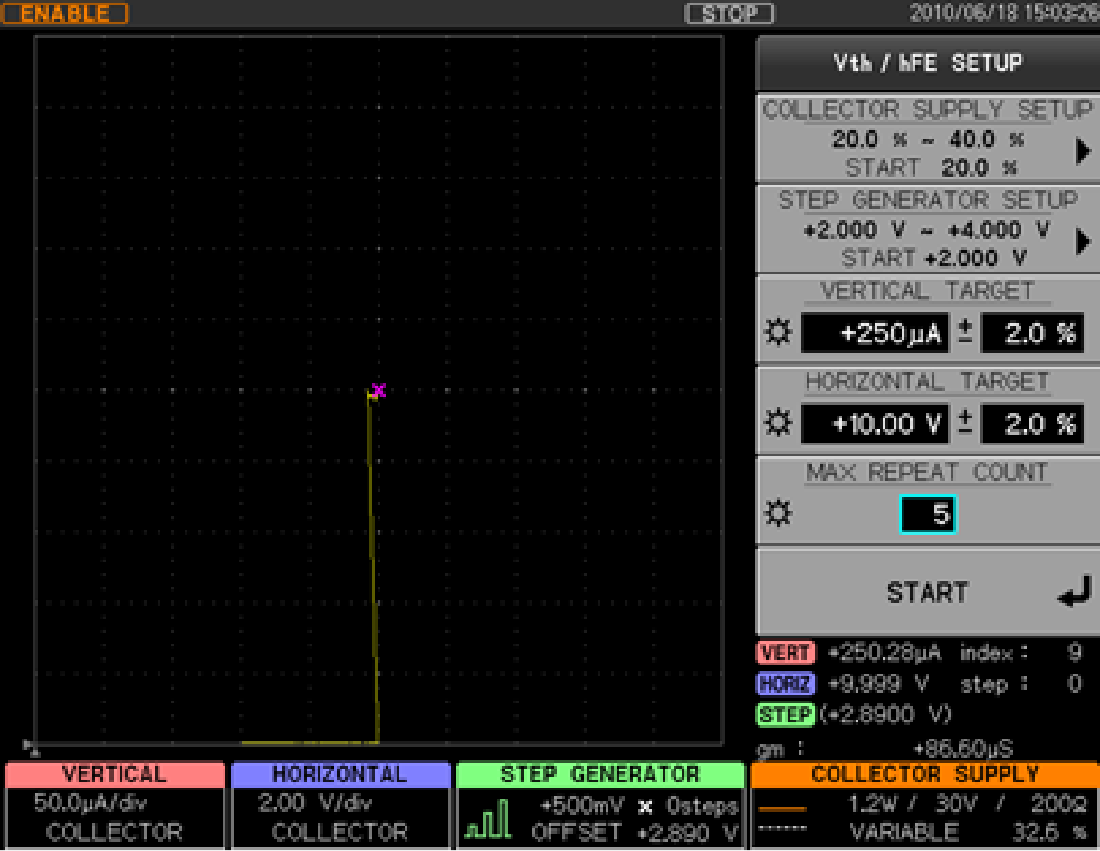 Example of MOSFET Vth measurement
Optional Software CS-810
CS-810 is an optional Software application that controls curve tracers, scanners, hotplates performing measurement and thereby automates the measurement. CS-810 improves efficiency.
※CS-800 is required to use CS-810.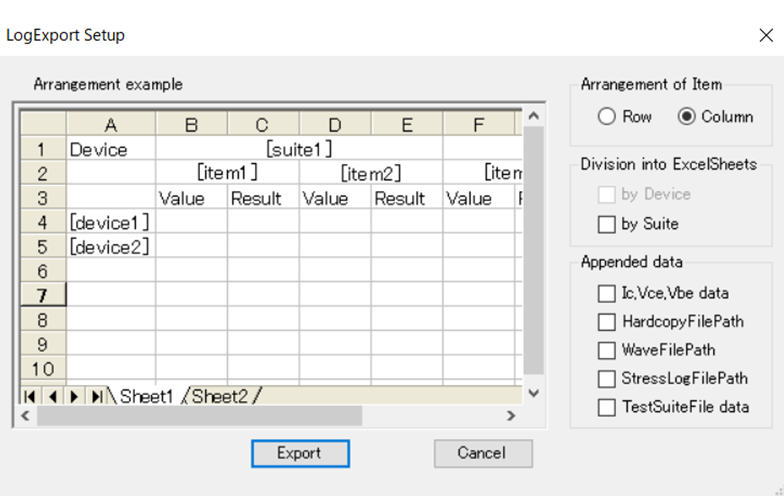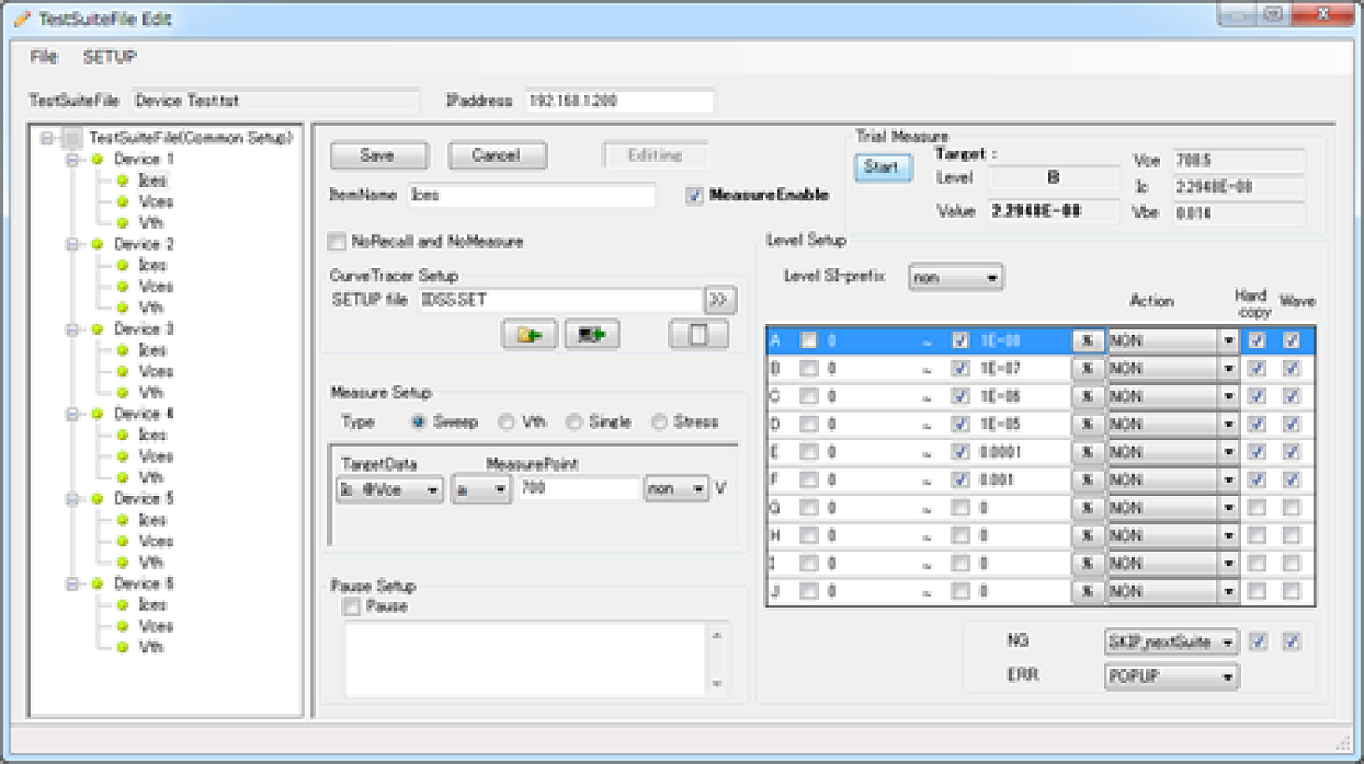 A selection of export formats For the log file.

Shows the worst data for Item in each test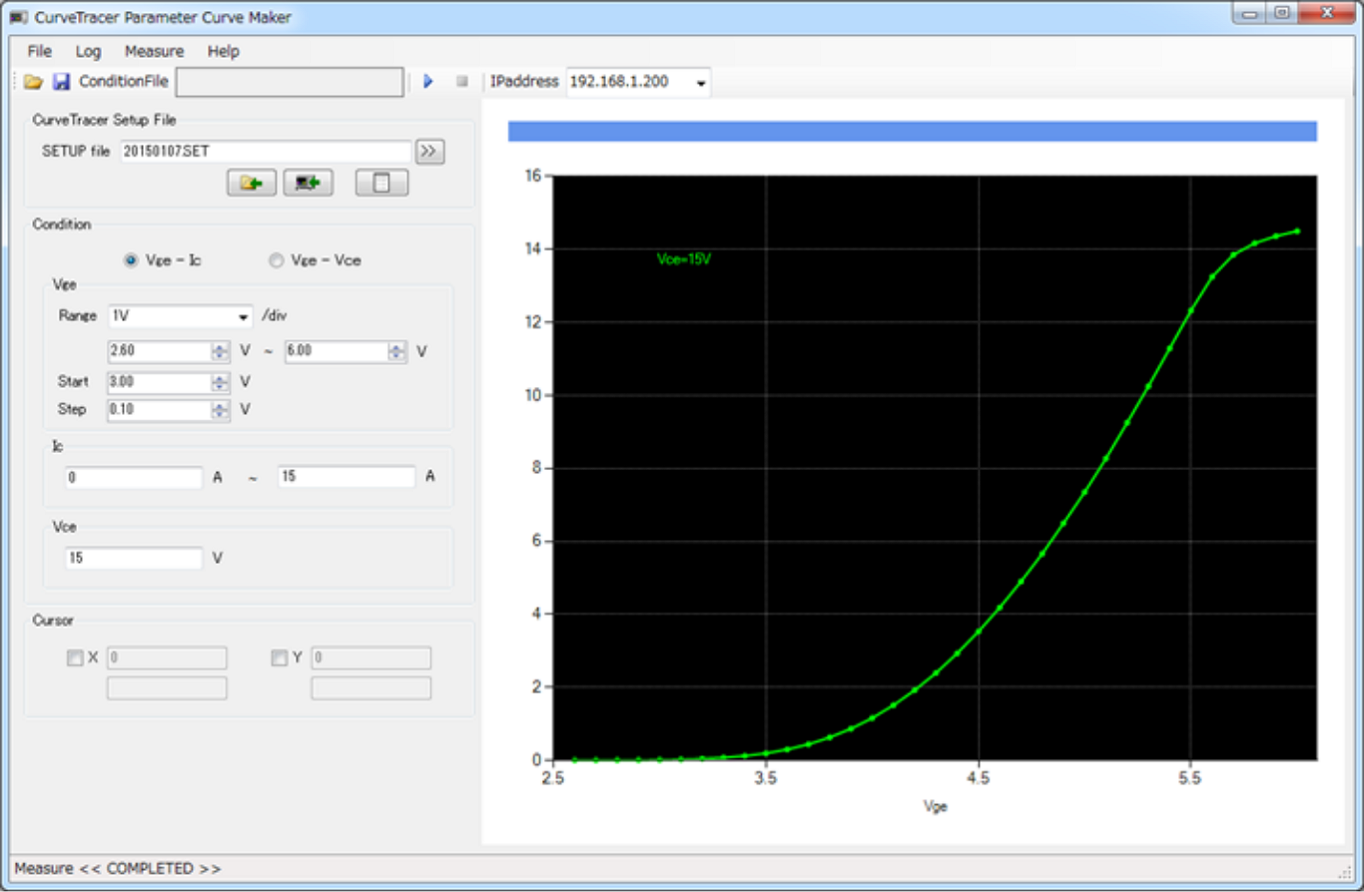 It was difficult for a curve tracer to measure the transfer characteristics, however our software program CS-810 makes it possible.
Modal up to here [/ comment]