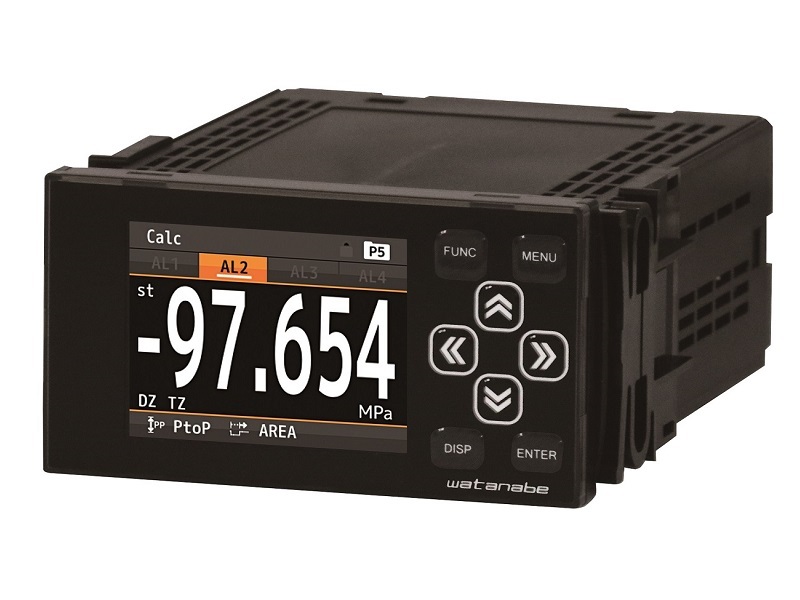 LCD panel meter focused on the [Easy reading] & [Easy operation]
●Watanabe developed WPMZ series as multi-display digital panel meter matched to the user's needs,and focused on the basic performance such as [1. Easy to read] [2. Easy operation].

1) Easy to read
 2.4 inch high brightness TFT full-color LCD. WPMZ has 5 level brightness setting to adjust according to the indoor / outdoor lighting of site. Also 4 high visibility background color can be set in case of alarm output is ON.

2) Easy operation
 Numerical display and graph display selectable according to the measurement purpose. Also, easy operation by cross-keys. Language selection English & Japanese.

●WPMZ has 4 series line-up. It is a product that can cover various requirements, such as process monitoring, quality judgement etc. at the manufacturing site for various applications and environment.
Graphical Digital Panel Meter
Maker:
Watanabe Electric Industry Co., Ltd.
Features
1/8 DIN size (48×96 size)
Easy to read by 2.4 inch TFT Full color LCD display
High-speed sampling rate
(1ch : Max. 4000 times/sec, 2ch : Max. 2000 times/sec)
4 setpoint comparative output
4 setpoint (AL1/AL2/AL3/AL4) relay / opencollector available.
Various output options
1) Analog output
2) BCD output (NPN/PNP open collector)
3) RS-232C
4) RS-485 (Modbus RTU)
Alarm log function
Save up to 8 alarm trend data
Value / Graph display
[Value], [ Bar graph] and [Trend graph] Display can be selected according to the measurement
2ch input & calculation function
Standard 1ch input type, and also 2ch input type which can use for special measurement
90°Display rotation function
Horizontal / vertical selectable which is effective to use narrow places of board
Wave compare & Multi-hold function (WPMZ-3)
WPMZ-3 can compare measurement waveform and comparison waveform.
Also outputs multi compare result for each hold value, each section.
WATANABE / WPMZ (Graphical panel meter) How to use