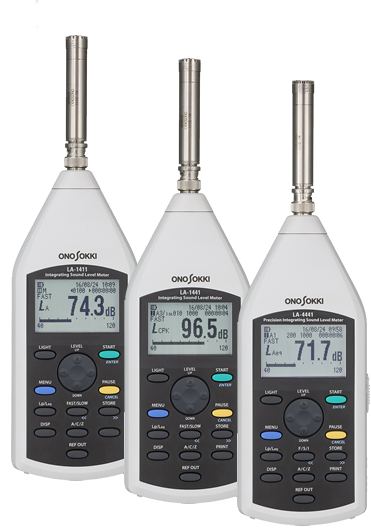 Sound level meter Class 1 LA-4441A & Class 2 LA-1411/1441A
Three models of sound level meter LA-1411/1441A(Class 2) and LA-4441A (Class 1) are applicable to IEC 61672-1:2013, JIS C 1509- 1:2017. The all models can perform simultaneous measurement of seven sound parameters including equivalent continuous sound level without adjusting the level range corresponding to the sound fluctuation and display the selected parameters.


The microphone is able to be used away from the main unit of sound level meter by using exclusive coaxial cable(s). Featuring curve-shaped body with minimum affects from sound reflection, easy-to-read and intuitive operating menu etc., our new sound level meters have greatly improved more than ever easier as ergonomically designed interface.


Moreover, LA-1441A/4441A sound level meters can transfer the measurement result to a PC with simple and quick operation via RS-232C or USB interface. The sound level meter can be controlled remotely from PC using software (user preparation).
Sound level meter
Model:
Class 1 LA-4441A & Class 2 LA-1411/1441A