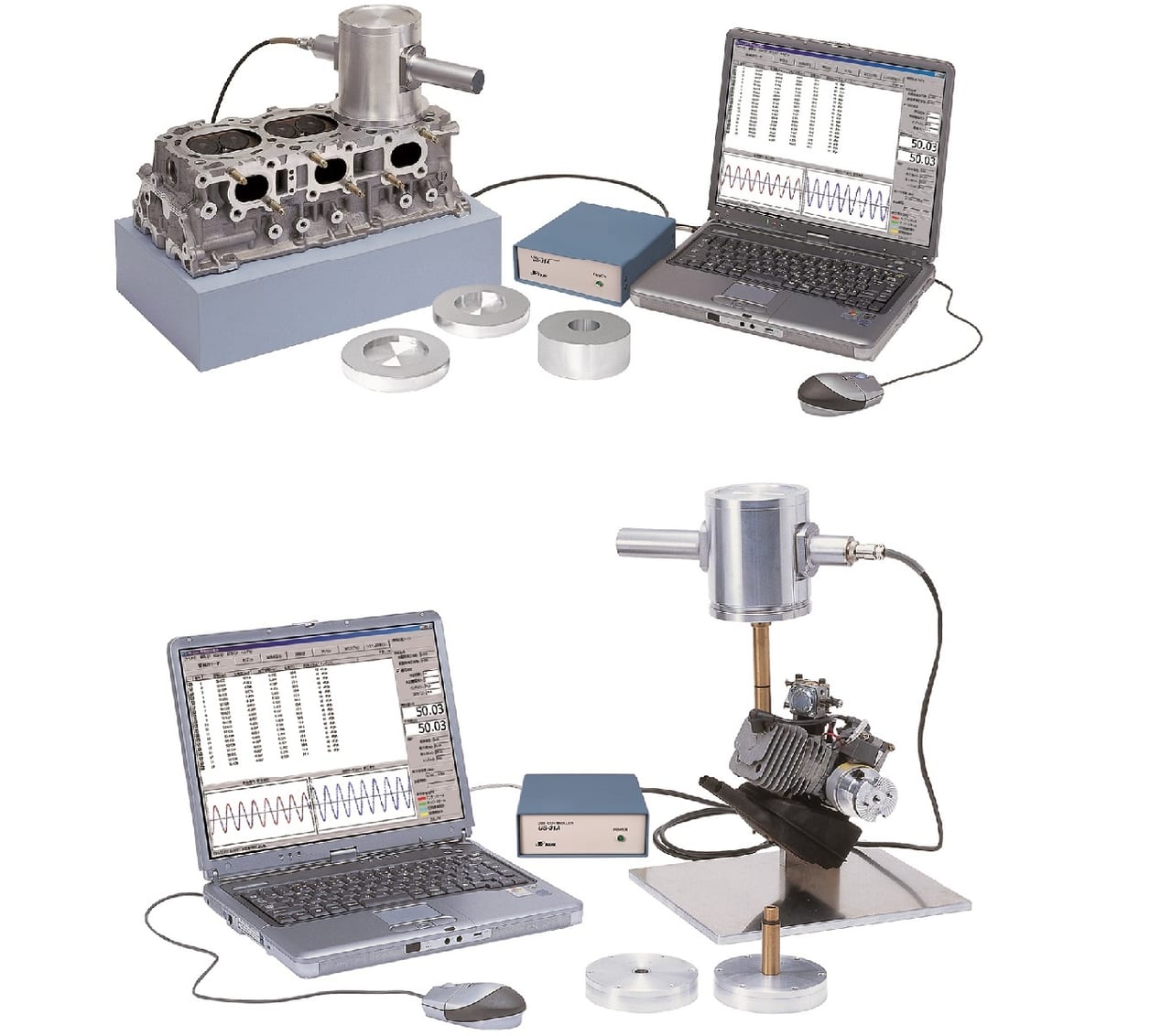 Acoustic Measurement of Capacity/Volume Now precision measurement under dry conditions is possible for any shape of object.
Acoustical Capacity Meter (combustion chamber)
Features
Acoustical Capacity Meter(Combustion Chamber Capacity Meter)
Regardless of the shape, the combustion chamber capacity can be measured by simply placting the capacity meter on the combustion chamber cavity of the cylinder head.
In stead of using a spark plug of the assembled engine, special adapters are used to connect to the capacity meter so that the combustion chamber capacity can be measured.
In the process of engine manufacturing or maintenance, the combustion chamber capacity can be measured ibn just two seconds in dry conditions.
Acoustical Volume Meter
Unlike the conventional method of the Archimedes principle (where the target object is immersed in water), this system allows volume measurement of the target object in dry conditions.
Even the volume of objects with complex shape can be measured accurately in a short time (approx. two seconds).
Measurement Method
The measurement head is directly placed on top of the combustion chamber cavity in the engine head block, and the capacity is measured using an acoustical method. This has several advantages, such as allowing easy measurement regardless of the shape of the measurement target, and requiring no liquid, so that the specimen can be measured in a dry state. Furthermore, the measurement takes only about two seconds. In view of how measurements are handled during the engine manufacturing process, a spark plug link pipe and link adapter are also available, making it possible to perform the combustion chamber capacity measurement after the engine has been assembled.
VM-240A/230A: Acoustical Capacity Meter
Specifications
Acoustical Capacity Meter
(Combustion Chamber Capacity Meter)
Capacity/ volume measurement: repeat precision
±0.05 cm3 *1
Required measurement time
Approx. 2 seconds (When number of analysis points is 1 024. Units: one-second steps)
Measurement frequency
15 to 99 Hz (variable, depends on the object)
Numbers of analysis points
256 to 4 096 points (variable, in a power-of-two. Initial value: 1 024 points)
Reference chamber:
acoustic pressure in measurement tank
Approx. 94 to 134 dB (1 to 100 Pa rms)
Reference chamber: internal dimension, capacity
φ90 mm x 91 (H) mm V1 nealy equal to 570 cm3
Controller
Connected to a computer through a USB cable. 54 (H) x 150 (W) x 170 (D) mm, approx.400 g
Consumption current
5 V, approx. 475 mA (approx. 2.4 VA)
Available OS
Microsoft Windows 7 Professional 32 bit / 64 bit, 8.1 Pro 32 bit / 64 bit, 10 Pro 32 bit / 64 bit
Accessories
■ Connection cable, USB cable
■ AC adapter
■ Software (CD-ROM)
Options
■ Reference standards
For calibration, at least two reference standards are needed.
0 to 120 cm3 (in 5 cm3 increments)
(Manufactured according to the capacity of the object.)
■ Spark plug hole adapter (for assembled engines)
*1 When a volume of 50 cm3 is measured under standard environmental conditions (20 ˚C, 50 %) (for a cylinder head)