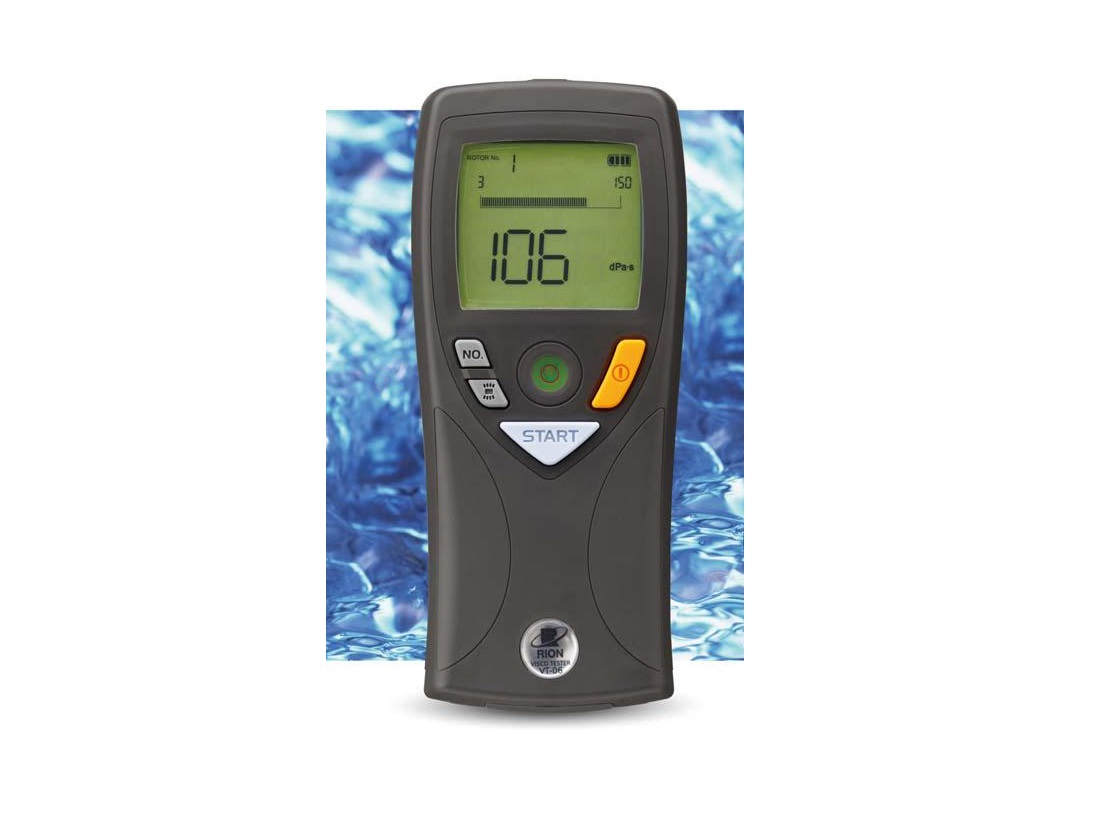 Uni-Cylinder Rotational Viscotester Allows Easy Measurement of Fluid Viscosity
The VT-60 is designed for quality control applications in the manufacturing process of industrial products such as petrochemicals, paint, and adhesives, as well as foodstuffs. Viscosity measurements covering a wide range are possible, such as gear oil used in fluid. The resistance to rotor movement caused by the viscosity (torque) is measured to obtain direct readings.
Viscotester (for high viscosity measurement)
Features
Compact and lightweight make the unit easily portable and allow operation with one hand
Can be powered by alkaline batteries, nickel-hydride rechargeable batteries, or AC adapter
Direct indication of viscosity in decipascal-seconds (SI units)
Dedicated stand for measurement available as option
Use
1:  Attach rotor to unit and hold unit in the hand or place on dedicated (Unit should be approximately horizontal in either case.)
2:  Insert rotor in sample fluid, turn power on, and select rotor number.
3:  Press start button and read indicated viscosity.
*The supplied extension rod can reach fluid that is further away. (Only for use with the No.1 and No.2 rotors.)
VT-06: Viscotester (for high viscosity)
Specifications
Measurement range
No. 3 rotor: 0.3 to 13 dPa.s (with No. 3 cup)
No. 1 rotor: 3 to 150 dPa.s (with JIS 300 mL beaker*1)
No. 2 rotor: 100 to 4000 dPa.s (with JIS 300 mL beaker*1)
Sample fluid capacity
No. 1 and No. 2 rotor (with JIS 300 mL beaker*1) approx. 300 mL
No. 3 rotor                  (with No. 3 cup) approx. 150 mL
Clearance between rotor end and cup bottom: about 15 mm
Measurement accuracy
±10 % ±1 digit of indicated value, reproducibility ±5 %
Rotor speed
62.5 rpm
Power supply
IEC LR6 (size AA) alkaline batteries,
nickel-hydride rechargeable batteries, AC adapter VA-05JA
Dimensions and Weight
175 (H) × 77 (W) × 40 (D) mm (without protruding parts),
Approx. 260 g (without batteries)
Supplied accessories
No. 1 rotor (dia. 24 × 53 × 166 mm)
SUS304 1
No. 2 rotor (dia. 15 × 1 × 113 mm)
SUS304 1
No. 3 rotor (dia. 45 × 47 × 160 mm)
SUS304 1
No. 3 Cup (dia. 52.6 × 75 mm)
SUS304 1
Extension rod (900 mm・300× 3)
SUS304 1
IEC LR6 (size AA) alkaline batteries
               4
Note : The Viscotester cannot measure accurately with anything other than supplied cups or the JIS 300 mL beaker
*1 JIS R 3503 : 1994, φ78×103 (H)