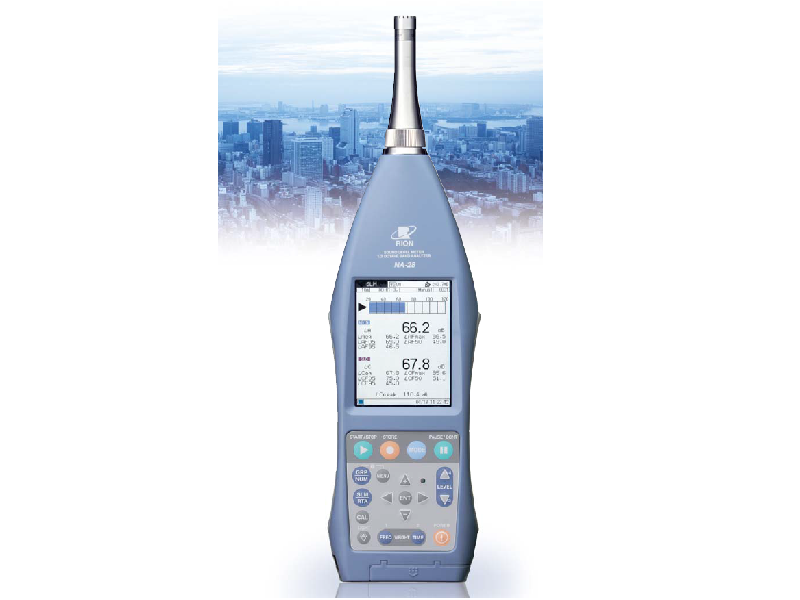 Easy to use compact design with comprehensive features.
Rion's priorities for on-site measurements are speed, ease of use, quality and reliability.
The New NA-28 is the top of the Rion range of sound level meters and analyzers. It combines cutting edge technology with excellent quality and unrivalled ease of use.
Sound level meter and 1/3 octave band real-time analyzer
Features
Ease of use-main functions on dedicated, backlit keys
Superb high-contrast backlit TFT-LCD color display
Simultaneous measurement and display of 1/1 and 1/3 octaves
One keystroke to switch between sound level meter and analyzer display
Massive storage capacity using text files stored to CompactFlash memory cards(cf card)
Flexible and simple PC connectivity (CF card and USB Virtual Disk)
Exceptional battery life using standard alkaline batteries, appro. 16 hours.
Key Capabilities
Real Time Octaves (16 Hz to 16 kHz) or 1/3 octaves (12.5 Hz to 20 kHz)
Real Time Simultaneous Octaves (16 Hz to 8 kHz) and 1/3 Octaves (12.5 Hz to 12.5 kHz)
Data stored as text files direct to CF card
Measures and logs Leq, Lmax, Lmin and 5 percentile values (LN) in octaves and/or 1/3 octaves
Auto Stores 300 000 data sets or 1 000 hours of 1 second 1/3 octaves onto 2 GB CF card
Auto Stores 1 000 data sets or 10 000 of 1 second 1/3 octaves to internal memory
Manual Storage for 1 000 data sets internally or 100 000 data sets to 2 GB CF card
Linearity 110 dB in Sound Level Meter Mode and 95 dB in Analyzer Mode
16 hours battery life with 4 Alkaline 'C' Cells
Main and Sub-Channel for simultaneous selection of 2 time or frequency weightings F (Fast), S (Slow), 10 ms Time Weightings plus Peak & Impulse on Sub-Channel
Data transfer using CF card or USB (meter/CF card appearing as virtual disk)
Measurement can be started by internal or external trigger
Comparator output to trigger external devices
AC and DC outputs of main and/or sub-channel
Expandable functionality using programme cards