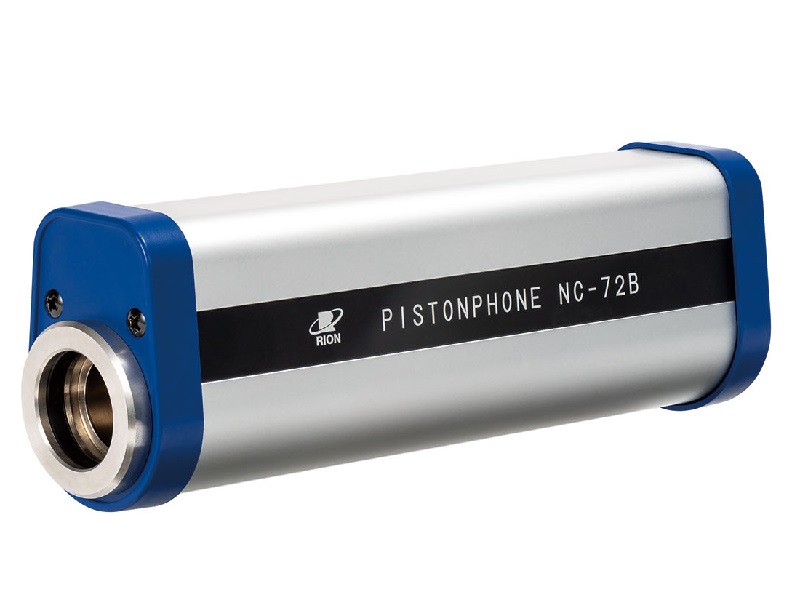 A standard Sound source that Generates a constant sound pressure of 114 dB at 250Hz
Features
Conforms to IEC 60942 : 2017 class LS/M and class 1/M
Supports exact frequencies (251.19 Hz)*
*Exact frequencies have been adopted due to revisions to certification and inspection regulations of the Measurement Act of 2015.
Allows calibration with precision of ±0.10 dB
Can also be powered by NiMH batteries
Usable as a standard sound source in laboratories or as a calibration sound source for sound level meters on site.
Use
Carefully insert a microphone all the way into the coupler. Then simply turn the power on to apply a constant sound pressure level to the diaphragm of the microphone. To use a 1/2-inch or 1/4-inch microphone, install the supplied adapter into the coupler. Turn the power switch on and ensure that the battery voltage monitor (LED) is lit during use.
Specifications (at reference environmental conditions*)
Applicable standards
IEC 60942:2017 class LS/M, class 1/M
ANSI/ASA S1.40-2006 (R2016) class LS/C, class 1/C JIS C 1515:2020 class LS/M, class 1/M
CE marking, WEEE Directive, Chinese RoHS
Specified microphones
Microphones made by RION as well as microphones made by other manufacturers that meet the IEC 61094-1, IEC 61094-4 size specifications
1-inch microphones
1/2-inch microphones (supplied adapter used)
1/4-inch microphones (supplied adapter used)
Sound pressure level
Nominal sound pressure level
114 dB
Specified sound pressure level
114.0 dB ±0.2 dB(As noted on supplied calibration chart)
Specified sound pressure level tolerance
±0.10 dB (Using specified sound pressure level on supplied calibration chart as reference)
Frequency
Nominal frequency
250 Hz
Specified frequency
251.19 Hz ±0.10 Hz(As noted on supplied calibration chart)
Specified frequency tolerance
±0.1 % (Using specified frequency on supplied calibration chart as reference)
THD + noise rating of generated sound
2.0 % max. (22.4 Hz to 22.4 kHz)
Ambient conditions for operation
Static pressure
65 kPa to 108 kPa
Ambient temperature
−10°C to +55°C
Relative humidity
10 % to 90 % RH (no condensation)
Power supply
Six AA batteries
Alkaline batteries LR6, Manganese batteries R6P,
NiMH rechargeable batteries HR6 (Set the battery switch to the type of battery used)
Battery life
15 hours or more (when in continuous use with six LR6 batteries)
4 hours or more (when in continuous use with six R6P batteries)
13 hours or more (when in continuous use with six HR6 batteries)
Dimensions and weight
Approx. 62 mm (H) × 44 mm (W) × 170 mm (D),
Approx. 750 g (including batteries)
Supplied accessories
Carrying case ×1
1/2-inch adapter ×1
1/4-inch adapter ×1
Barometer ×1
Alkaline batteries (LR6) ×6 Calibration chart ×1
*Standard environmental conditions: static pressure of 101.325 kPa, ambient temperature 23°C, relative humidity 50 %