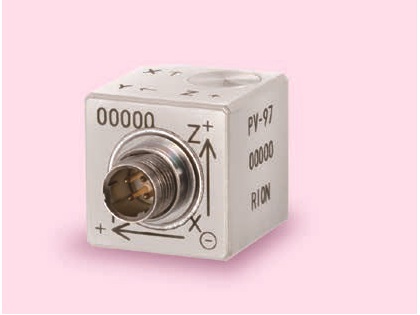 High Temperature Type/ 3-Axis
Press fit section reinforced by laser machining
This can be used at temperatures up to 200 ℃
Piezoelectric Accelerometer
Specifications
*Unless noted otherwise, data are representative values at 23 ºC
| | |
| --- | --- |
| Principle | Piezoelectric acceleration detection, plate shear type |
| Number of components | 3 (3-axis orthogonal coordinate system) |
| Charge sensitivity ※1 | Approx. 0.29 pC/(m/s2) (80 Hz) |
| Vibration Frequency range ※2 | 1 Hz to 10 000 Hz, 1 to 5 000 (X / Y) (±10 %) |
| Max. transverse sensitivity ratio | 5 % or less (30 Hz) |
| Maximum measurable acceleration | 5 000 m/s2 (peak value) |
| Capacitance | Approx. 500 pF (1 kHz) |
| Base distortion sensitivity | 0.1 (m/s2) / μstrain or less (using 3 Hz HPF) |
| Thermal transient response | 1.0 (m/s2) / ºC or less (using 3 Hz HPF) |
| Case insulation | Non-insulated |
| Case material | Titanium alloy |
| Standard mounting method ※3 | Adhesive mounting |
| Connection | Small 4-pin connector |
| Polarity | Positive charge output corresponding to acceleration in direction indicated by arrow on case |
| Ambient temperature range for operation / °C | -50 °C to +200 °C |
| Dimensions | Approx. 13 (H) x 13 (W) x 13 (D) mm (excl. connector) |
| Mass | Approx. 10 g |
| Cable | 3-axis low-noise cable VP-51WL for PV-97 |
※1 Representative value. Actual values are given on calibration sheet supplied with accelerometer.
※2 Representative value when mounted on flat surface with standard mounting method (※3).
●The piezoelectric element in a piezoelectric accelerometer may be damaged by excessive shock. Take care not to drop the accelerometer, and handle it with care when using the magnetic attachment.