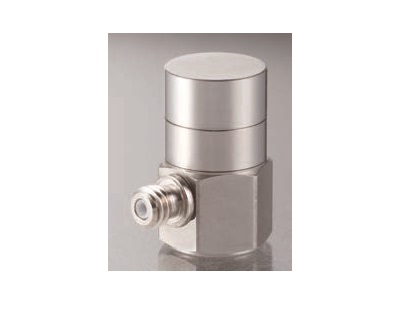 High-Temperature Resistance CCLD Type
11mV/(m/s2) high-sensitivity type
High-temperature resistance CCLD type: Supports operation in environments up to 170 degrees centigrade
Compact and lightweight design minimizes interference with measurement object, ensuring high measurement accuracy
Piezoelectric Accelerometer
Specifications
Principle
Shear
Voltage sensitivity (80 Hz) ※1
11 mV / (m/s2) ±15 % (23 °C)
Vibration frequency range Hz ※2
1 Hz to 15 kHz (±10 %)
0.6 Hz to 20 kHz (±20 %)
0.5 Hz to 20 kHz (±30 %)
Mounting resonance frequency kHz※2
approx. 50 kHz
Maximum measurable acceleration m/s2 (peak) ※3
450 m/s2 (Peak)
Transverse sensitivity
5 % or less (30 Hz, 23 °C)
Base distortion sensitivity (m/s2) / μ strain
0.005 (m/s2) / μ strain (TYP.) (When using 3 Hz high-pass filter, 23 °C)
Thermal transient response (m/s2) / °C
0.07 (m/s2) / °C (TYP.) (When using 3 Hz high-pass filter, 23 °C)
Standard mounting method ※4
M3 screw 0.5 N・m
Case material
Titanium
Ambient temperature range for operation / °C
-50 °C to +170 °C
Power supply (CCLD)
DC18 V to 30 V (2 mA to 4 mA), rated voltage 24 V
Dimensions
8 mm (Hex) × 13.3 mm (H) (Excluding connector)
Mass
approx. 3 g
Supplied accessories
Ultra-compact accelerometer cable (with ferrite core) VP-51LC (2 m) x 1, M3 screw VP-53K x 2, Insulation attachment VP-53W x 1, Single-head spanner (8 mm) x 1, Hex wrench x 1
※1 Representative value; actual value is noted on calibration sheet supplied with accelerometer.
※2 Representative value when mounted on flat surface according to standard mounting method (※4)
※3 The maximum measurable acceleration differs, depending on temperature, voltage sensitivity, and power supply voltage.
● The internal chip and piezoelectric element in a piezoelectric accelerometer may be damaged by excessive shock. Take care not to drop the accelerometer, and handle it with care when using the magnetic attachment.