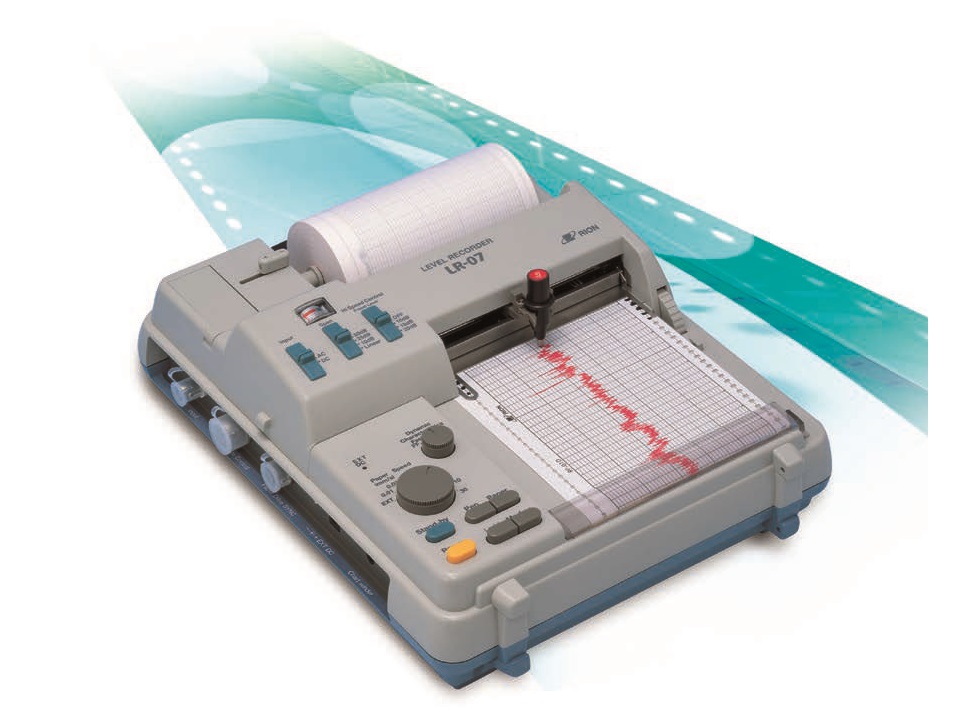 Ease of Use in a Clever Package
Records sound level, vibration level or DC voltage. External control is possible for pen, paper feed and marker functions. Operates in sync with level processing equipment.
Features
Records sound or vibration levels
Records DC voltages
External control of pen, paper feed, and marker functions
Measurement with coordinated paper feed
Operates in sync with level processing equipment
Versatile external control
Pen movement, paper feed start/stop, marker operation, and paper feed rate selection can be controlled from other equipment.
 Paper-feed controlled measurement
When the measured sound or vibration level exceeds a certain threshold, paper feed can be automatically increased for easier reading of the recorded information. This saves paper and is useful for example in train and airplane noise measurements or other situations where non-continuous events are to be recorded.
Specifications
Applicable standards
JIS C 1512
Level recorders for sound level meters and vibration level
Input section
Input impedance
50 kΩ, unbalanced
Voltage required forfull-scale point
AC: 0.2 V to 10 V (RMS)
DC: 0.5 V to 25 V
Maximum allowable input voltage
AC: 35V (RMS)
DC: 50 V
Recorder section
Recording principle
Automatic balancing
Frequency range
Recording range 25 or 10 dB: 1 Hz to 100 kHz (tolerance ± 1 dB)
Recording range linear:     1 Hz to 100 kHz (± 10 % of full-scale point)
Recording range 50 dB:    1 Hz to 20 kHz (tolerance ± 0.5 dB, 1 dB at 1 Hz)
Dynamic characteristics
FAST, SLOW, VL (vibration level), FF (averaging time constant 10 ms)
Recording pen
Level recorder pen (RED)   LB-25B
Recording pen response
Exponential
Recording pen speed
400 mm/s or more
Recording paper(normal paper)
For level recording: RP-01D
Paper feed motor
Pulse motor
Paper feed rate
(8 selectable steps)
0.01, 0.03, 0.1, 0.3, 1, 3, 10, 30 mm/s or external control (pulse drive) ;
tolerance ± 2 % or less
Paper speed control measurement
Available in for 50 dB recording range
Paper feed rate increase by factor 10 when input signal exceeds a preset trigger level (not valid at 30 mm/s, 10 mm/s, 3 mm/s, and external control)
Trigger level settings: 10, 15, or 20 dB
above lower measurement limit
Power requirements
Dry-cell batteries (IEC R20, size "D")× 6, External power supply input
Ambient conditions
0 to +50 ℃, max. 90 %RH, no condensation (when operated with dry-cell batteries)
−10 to +50 ℃, max. 90 %RH, no condensation (when operated with AC adapter or rechargeable battery pack)
Dimensions and weight
Approx. 122(H) × 250 (W) × 325(D)mm, Approx. 3.6 kg
Supplied accessories
Input cable NC-39A× 1
Recording paper RP-01D× 2
Dry-cell batteries (IEC R20, size "D")× 6
Carrying case× 1
Level recorder pen (RED)× 6
Spare pen holder× 1
Dual-sided adhesive tape× 1
Miniature screwdriver× 1
Calibration position sticker set× 1
Instruction manual× 1