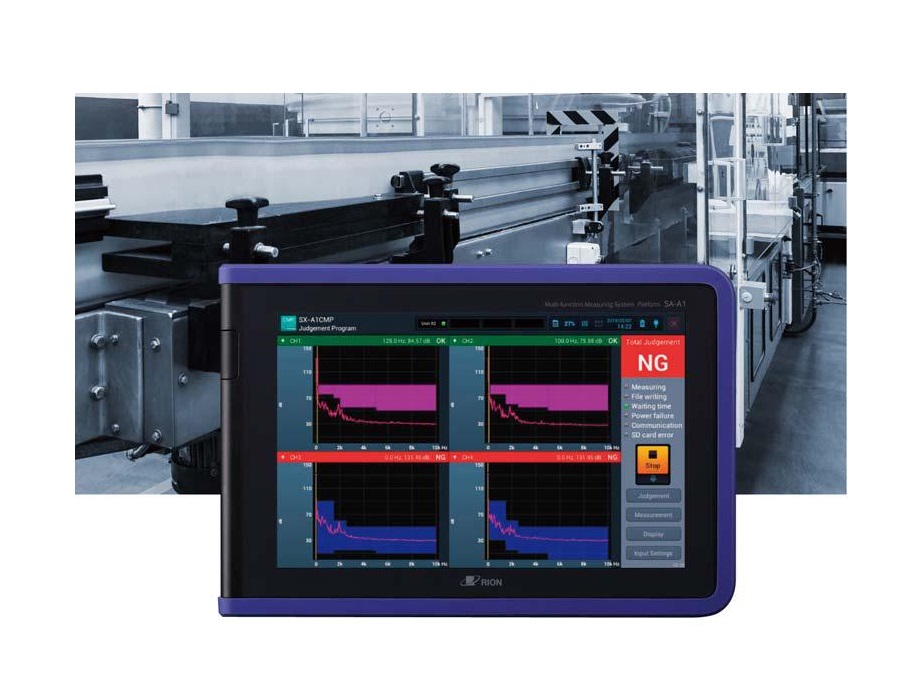 The Judgement Program SX-A1CMP is a software application for the RIONOTE Multifunction Measurement System.
It is suitable for pass / fail evaluation of noise, vibrations and other phenomena in production or inspection lines.
Allows setting threshold areas for FFT analysis results to determine pass/fail.
Depending on the evaluation purpose, a suitable sensor can be selected from various types of microphones or accelerometers.
Operation control from a PLC is also supported as an option (using the Ethernet connector of the RIONOTE).
Judgement Program (Pass/Fail Evaluation)
Features
A maximum of 10 settings for upper frequency, lower frequency, upper level, and lower level of a threshold area can be made per channel.
The OK conditions for each threshold area can be set to IN, OUT, or Peak.
Comprehensive evaluation can be obtained by using evaluation results from each channel and linking them with the channel-to-channel AND/OR setting.
Simultaneously show power spectrum and evaluation result for each channel.
Tapping a threshold area on the screen gives easy access to the settings for that threshold area.
Measurement start can be triggered by external input or time waveform.
Five sets of condition settings can be saved.
Measurement condition specifications -Five sets of the condition settings below can be saved-
| | |
| --- | --- |
| Analysis frequency | 100 Hz / 200 Hz / 500 Hz / 1 kHz / 2 kHz / 5 kHz / 10 kHz / 20 kHz |
| Analysis points | 256 / 512 / 1 024 / 2 048 / 4 096 |
| Window function | Rectangular / Hanning / Flat-top |
| Average method | Linear / Max. |
| Average count | 1~1 024 |
| Waiting time | 0.0 to 999.9 seconds |
| Indication characteristics | Peak / RMS |
| Number of graphs | 1/2/4 |
| Trigger mode | Free / Repeat |
| Trigger source | External / Time wave |
| Save judgement data file | NG / OK / All / No save |
| Log file save | Yes / No |
Judgement Program SX-A1CMP (Option)
| | |
| --- | --- |
| Input | Evaluation condition switching, measurement start / stop control |
| Output | Evaluation result, SX-A1CMP operation status, error information |