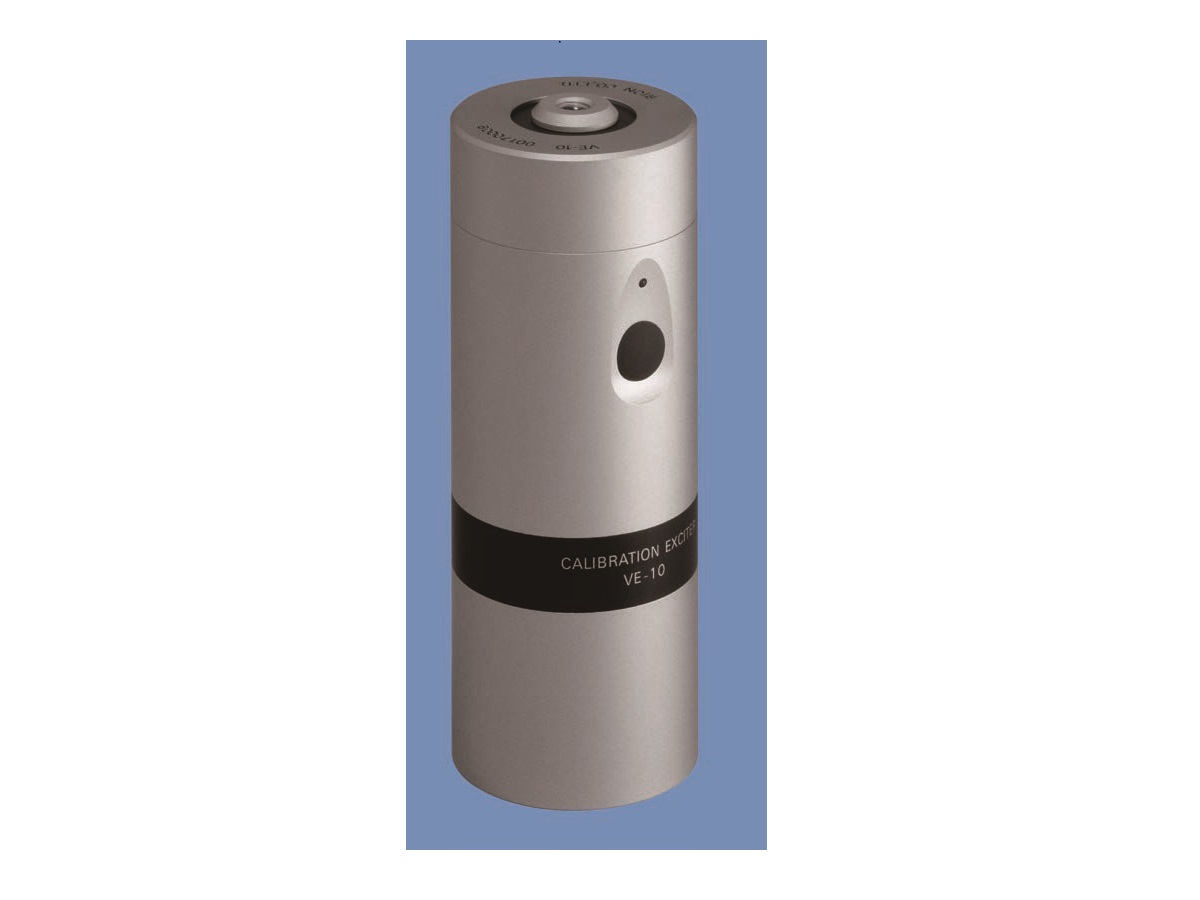 For calibration of accelerometers and vibration meters on-site.
The VE-10 is a handy calibration exciter for a vibration meter and a vibration pickup (piezoelectric accelerometer).
Features
Calibrations of acceleration, velocity and displacement measurement equipment.
600 times of operation possible with single battery in auto-stop mode. Manual mode provided.
Automatic power -off function for overload (more than 100g).
Specifications
Oscillator:
Sinusoidal wave oscillator
Frequency:
159.2 Hz ± 1 % for — 10 to + 55 ℃
Acceleration:
10 m/s(RMS)± 3 % for   10 to 40 ℃ ± 5 % for — 10 to + 55 ℃
Velocity:
10 m/s(RMS)± 4 % for 10 to 40 ℃ ± 6 % for — 10 to + 55 ℃
Displacement:
10 μm(RMS)± 5 % for 10 to 40 ℃ ± 7 % for — 10 to + 55 ℃
Maximum Load:
70 g
Transverse Amplitude:
Less than 5 % of main axis ampli-tude
Total Harmonic Distortion:
Less than 3 % for 20 to 60 g load
Less than 5 % for 10 to 70 g load
Operation Mode:
Auto-stop mode (approx. one minute operation), Manual mode
Operating Conditions:
Temperature; -10 to + 55 ℃
Humidity; 0 to 90 % RH
Power:
IEC 6LR61(9 V)battery × 1
Dimensions and Weight:
51 mm dia. × 134(H)mm, approx, 600 g (battery included)
Standard Accessories:
Mounting adapter × 1
M6 screw × 1
M6-UNF screw × 1
Leather case × 1
6LR61 alkaline battery × 1