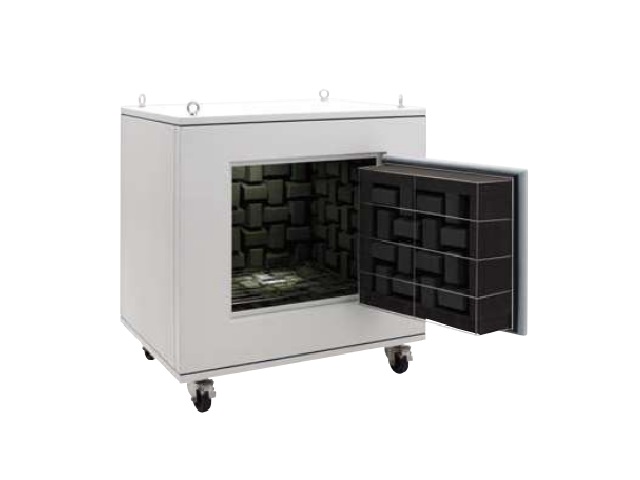 carefully controlled acoustic properties provide a stable and quiet environment for measurements
* Suitable for use in testing and developing small size precision instruments.
* Wall reflections are damped for enhanced measurement accuracy.
* Wedge-shaped absorber layer provides high sound absorption efficiency.
* Compact dimensions and casters provide mobility.
* Available as standard type L or H with higher sound insulation and absorption characteristics.
Anechoic Box (Compact Type)
Sound insulation performance (Type L)
●Measured according to JIS A 1417. Results may differ slightly, depending on construction of installation location (floor, walls, ceiling) and ambient noise level.
| | | | | | | | |
| --- | --- | --- | --- | --- | --- | --- | --- |
| Frequency | (63Hz) | 125Hz | 250Hz | 500Hz | 1kHz | 2kHz | 4kHz |
| Sound insulation | 10dB | 15dB | 23dB | 30dB | 35dB | 40dB | 40dB |
*Deviation —3 dB or more
*Figures in brackets are reference values
Dimensions, Weight (Type L)
| | | | |
| --- | --- | --- | --- |
| Model | External dimensions | Internal dimensions | Weight |
| 11L | 947 (H) x 904 (W) x 722 (D) mm | 500 (H) x 600 (W) x 400 (D) mm | 125 kg |
| 22L | 1187 (H) x 1104 (W) x 922 (D) mm | 700 (H) x 800 (W) x 600 (D) mm | 150 kg |
| 33L | 1387 (H) x 1304 (W) x 1122 (D) mm | 900 (H) x 1000 (W) x 800 (D) mm | 200 kg |