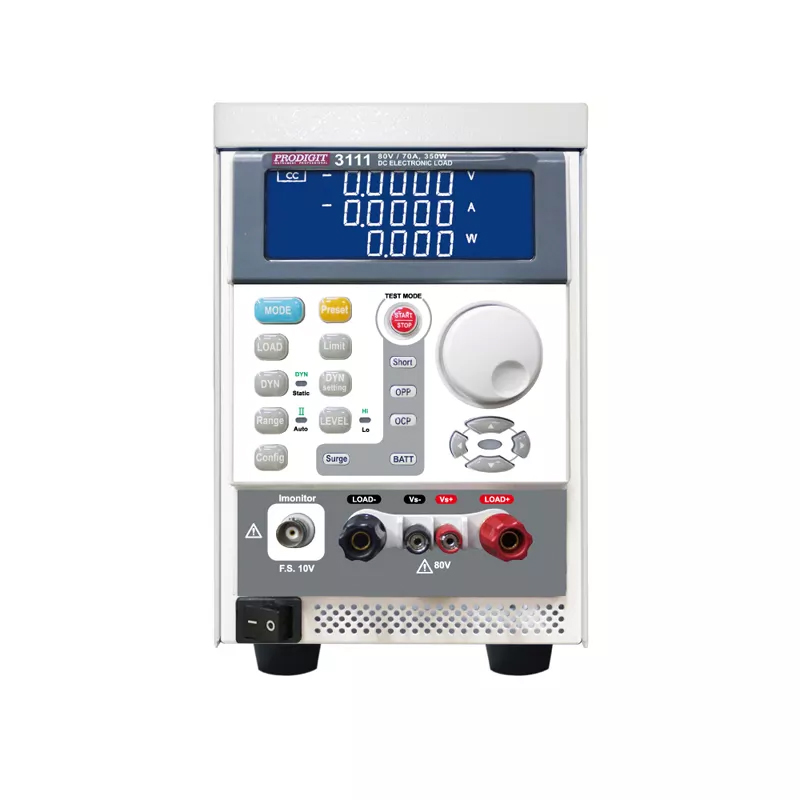 High-speed measurement and communication transmission.
1. Each 3110 Series stand-alone load has its own control and display panel, CC / CR / CV / CP/ Dynamic modes, also can be controlled intranet via RS232 and USB interface.

2. SHORT time setting and SHORT_VH, SHORT_VL setting function, also can measure Short Voltage and Current.

3. Dynamic can be simulated under CC, CP mode. The current Rise / Fall slew rate can be adjusted individually.
4. The additional Short, OCP, OPP, Batt and Surge test function operated by both manual and remote that will be more efficiency and accuracy on Short, OCP, OPP, Batt and Surge testing.
5. Programmable Load ON / OFF voltage, GO / NG meter check, Voltage meter display " + " or " – " is selectable. That is much advance feature for each different application.
DC Electronic Load(RS232、USB)
Features
5 digital V / A / W Meter.
High-speed measurement and communication transmission. 
V.A.W. values can be displayed simultaneously.
Large LCD Display、setting values can be adjusted by rotary knob or push button.
Short, OCP, OPP, Battery and Surge test function.
Battery test function with stop condition : Vbatt, Discharge capacity and discharge time.
Surge test with boot-on inrush simulation and hot-swap simulation.
Flexible CC. CR, CV, CP, Dynamic and Short operation modes.
SHORT time setting and SHORT_VH, SHORT_VL setting function.
Protections against V, I, W, and °C.
Voltage meter display the polarity positive(" + ")or negative(" - ")is selectable.
Interface : RS232、USB