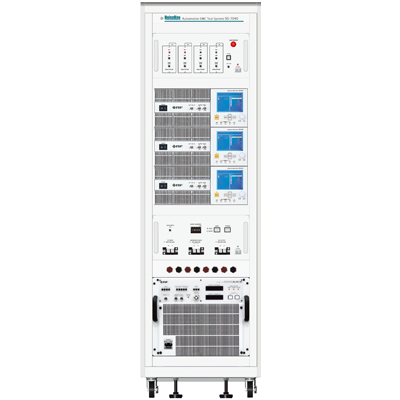 Power Supply Voltage Fluctuation Simulator SG-7040A series
The SG-7040A Series simulates power supply voltage fluctuation to test automotive electronics. Connections of automotive electronics are not limited to +B, but connections are also done to ACC and IG.

In response to testing needs for synchronized, multi-channel fluctuation simulations, the SG-7040A Series can be configured with one to four sequential oscillators and with the relevant number of high speed bipolar power amplifiers to carry out highly accurate and fast response tests on multi-channel basis.



Power Supply Voltage Fluctuation Simulator
Features
A waveform operation circuit is included for each oscillation channel making possible high resolution, highly accurate waveform output.

Software control (USB) allows for simple and faithful reproduction of various events (complex, extended duration) of DC fluctuation output waveforms.

Performs voltage fluctuation simulations on a maximum of four channels (variations in synchronization guaranteed at or less than 1μs).

Reproduces accurately waveform acquired with an oscilloscope (CSV),

Fully automated testing with the goal of reducing test man-hours.