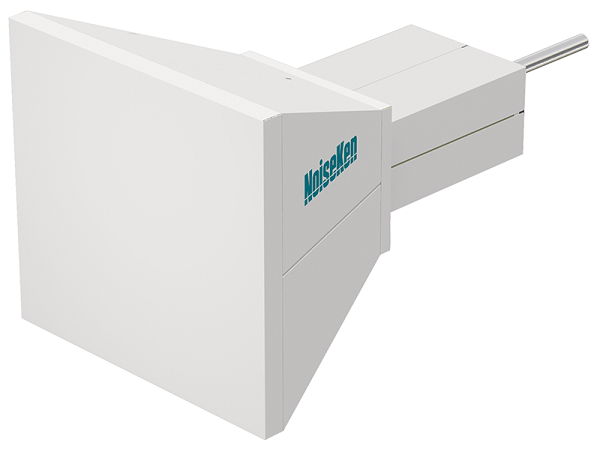 New Era- EMC testing of 5G / IoT !
The TEM horn antenna is used to perform a near electromagnetic field immunity evaluation test (Proximity immunity test) of electromagnetic waves radiated from wireless transmitters such as mobile phones. In the near future, the near field immunity test using a TEM horn antenna is expected to apply to various product standards such as medical equipment and multimedia equipment. NoiseKen's TEM horn antenna has a wide band, low VSWR, and a wide electric field uniformity property, Provides efficient proximity irradiation immunity tests.
* This product has been commercialized through joint research with the National Institute of Information and Communications Technology (NICT).
* This product uses the intellectual property rights of NICT.
TEM Horn Antenna
Maker:
NOISE LABORATORY CO.,LTD.
Features
TEM horn antenna in accordance with IEC 61000-4-39 Ed1.
Applicable of wide frequency range of 380MHz to 6GHz without replacing the antenna.
Thanks to low VSWR and high GAIN, increases electromagnetic wave radiation efficiency.
Wide field uniformity reduces antenna movement when irradiating the EUT.
Since the maximum point of the near electric field distribution at each frequency is at the center, enables an irradiation test on the EUT based on the axis of the antenna. Hence, significantly simplifies test point alignment.
TEM horn antenna THA-380M60G
Specification
 Item
 Specification
 Compliant standard
 Compliant standard IEC 61000-4-39
 Frequency range
 380MHz ~ 6GHz
 VSWR
 3 and below *Refer to figure (VSWR)
 Undetermined power
380MHz ~ 750MHz:180W MAX
750MHz ~ 1.7GHz:100W MAX
1.7GHz ~ 6GHz:65W MAX
 Electric field uniform area
 See figure (electric field distribution characteristics)
 Gain
 Refer to the figure {Power required to generate 300V/m (typ) (at 0.1m)}
 Impedance (typ)
 50 Ω
 Connector
 N (J)
 Dimensions
 W450mm × H420 mm × D598 mm
*Refer to diagram (measurement) for details.
 Weight
 approx. 3.2kgs