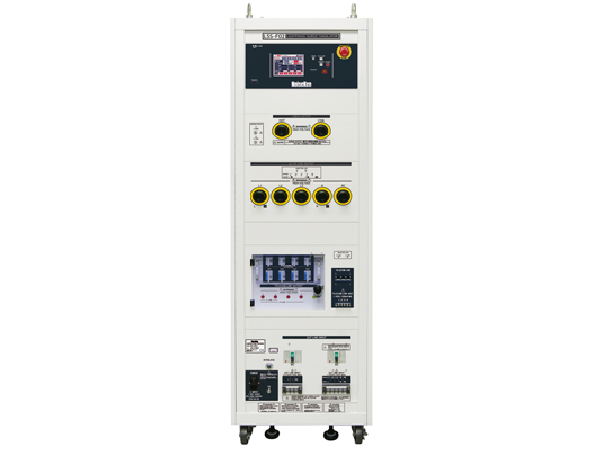 Conforming to IEC 61000-4-5 Ed. 3 requirements
Surges represent transients that might be induced in cables by lightning. By their nature, fairly high energy charges may easily damage or upset unprotected electronics circuits and components. Surges are not a new problem. Many companies have been testing their products at various stages of the products life: design tests, qualification tests, production tests and diagnostic tests.
The advance of surge suppression devices and technique does not lessen the importance of surge testing, but rather increases it, as the requirement to reduce power consumption and to increase the operational speed of semiconductors has become more demanding. In addition, the issue of surge testing is attracting renewed interest since this form of immunity is now a must for almost all electronic products for access to the global market.
Lightning Surge Simulator
Maker:
NOISE LABORATORY CO.,LTD.
Features
"Output voltage 15kV, current 7500A" which can conduct breakdown resistibility test
"50% reduction of the output interval" which can drastically reduce the test time
"Touch-panel" adopted for the easy test setting
"Multi-languages" for the easy operation processing available
"Indicator" which is linked with the test setting equipped
PC control available via free-downloadable software
"Emergency stop" & "Interlock terminal" which secure the test operator equipped
"Output waveform monitor terminal" which can ease pre-checking of the waveforms prior to the actual test
Specifications
■ Surge Generating Unit ■
Parameter
Specifications
Remarks
1.2/50μs-8/20μs
Combination waveforms
Output voltage 0.5kV to 15kV ±10%
Front time 1.2μs ±30%
Duration 50μs ±20%
Output current 250A to 7500A ±10%
Font time 8μs ±20%
Duration  20μs ±20%
Common for the all models
Voltage step : 0.1kV step
The setting can be from 0kV
10/700μs-5/320μs
Combination waveforms
Output voltage  0.5kV to 15kV ±10%
Front time 10μs ±30%
Duration 700μs ±20%
Output current  12.5A to 375A ±10%
Front time 5μs ±20%
Duration  320μs ±20%
Models: C1A/C3A
Voltage step : 0.1kV step
The setting can be from 0kV
Output polarity
 Positive / Negative
Interval
10 sec. to 989 sec., depending on the set voltage 10 sec.  (<6kV)
 15 sec. and over in 10/700 μs waveform
Output impedance
1.2/50μs waveform : 2Ω ±10%
10/700μs waveform : 40Ω ±10%
■ AC/DC CDN ■
Parameter
Specifications
Remarks
Coupling surge waveform
1.2/50μs-8/20μs combination waveforms
Max. coupling surge voltage / current
Up to the values which can be set
Coupling network
Correspondent to IEC61000-4-5
18μF: Between LINE – LINE (10Ω +9μF selectable)
10Ω:  ±9μF Between LINE – PE (18μF selectable)
Injection mode
Between LINE – LINE, Between LINE – PE
Power supply lines structure for EUT
Single phase AC: L/N/PE
DC : +/-/PE
Models: A1A/C1A
3-phase AC : L1/L2/L3/N/PE (Common for single phase and 3-phase)
DC : +/-/PE
Models: A3A/C3A
EUT power capacity
AC240V/20A MAX.  50/60Hz,  DC125V/20A MAX
Models: A1 A/C1A
AC500V/50A MAX.  50/60Hz.  DC125V/50A MAX
Models : A3A / C3A
Decoupling coil
1.5mH
Phase angle control
0  to 360° ±10°
■ CDN for Telecom lines  (Only in models C1A and C3A)■
Parameter
Specifications
Remarks
Coupling surge waveform
1.2/50μs-8/20μs combination waveforms
10/700μs-5/320μs combination waveforms
Max. coupling surge voltage / current
6kV
(Waveform specifications can be met up to 2kV for 1.2/50μS waveform and up to 4kV for 10/700μs waveform)
Impedance matching resistors
40Ω
80Ω per 1 line at 2 lines
160Ω per 1 line at 4 lines
1.2/50 μs waveform
25Ω per line
10/700 μs waveform
Coupling mode
Common mode
Coupling network
Gas arrestor : 90V
Line for EUT
 2 lines / 4 lines DC50V/100mA MAX
Selectable
Decoupling coil
20mH
■ Others ■
Parameter
Specifications
Remarks
Voltage monitor
BNC output, 1/2000±10%
In open-circuit for SURGE OUT
Current monitor
BNC output, 1mV/A±10%
In short-circuit for SURGE OUT
External communication
 RS-232C optical communication
Power supply
AC100V to AC240V ±10%, 50Hz / 60Hz
Dimensions
W555×H1450×D790 mm   (Models: A1A / A3A)
Projection excluded
 W555×H1800×D790 mm   (Models: C1A / C3A)
Projection excluded
Mass
 Approx. 290kg (Model:A1A),  Approx. 300kg (Model:A3A)
 Approx. 325kg (Model:C1A),  Approx. 340kg (Model:C3A)
■ SELECTION GUIDE TABLE ■
Model
LSS-F03
Output waveform
AC/DC Power Line CDN
Telecom Line CDN
1.2/50 μs
(8/20 μs)
10/700 μs
(5/320 μs)
Single phase
AC240V/30A, DC60V/20A
Single and 3-phase
AC500V/50A, DC60V/20A
DC50 V 100mA
A1A
Available
Available
A3A
Available
Available
C1A
Available
Available
Available
Available
C3A
Available
Available
Available
Available