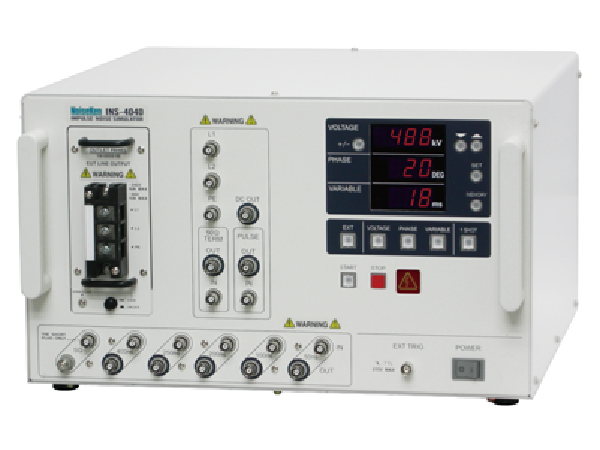 The NoiseKen's Impulse Noise Simulator INS-4020/4040 is a further development from our versatile INS series simulators for greater ease of use, durability and reliability with new technologies specifically applied to this new product. The most significant addition is automatic ramp operation in output voltage, pulse repetition period and phase angle placement.
Impulse Noise Simulator
Maker:
NOISE LABORATORY CO.,LTD.
Features
Automatic ramp operation for output voltage, phase angle and repetition period
Floating output
Coupling mode selection by plugging the supplied coaxial connector to the selected port
Easily changeable mercury relay unit
Built-in 50 ohm terminator
Up to 5 test settings stored in the internal momory
Easily changeable outlet panels
CE marked
Specification
Item
Model
INS-4020 (2kV)
INS-4040(4kV)
Output voltage
0.01 ~ 2.00KV ±10% with 50 ohm load, 10V step
0.01 ~ 4.00KV ±10% with 50 ohm load, 10V step
Polarity
Positive or negative
Square wave
Pulse width
50ns, 100 ns, 200ns, 250ns, 400ns, and any combination thereof, maximum width, 1µs or 10ns±3ns (the shortest connection)
Pulse rise time
< 1ns
Output impedance
50 ohm system (53.5 ohm)
Pulse repetition mode
VARIABLE
10ms ~ 999ms±10%, 1ms step
16ms ~ 999ms±10%, 1ms step
PHASE
50 or 60Hz, Injection phase angle 0~359°, 1° step, synchronized with L1 – L2 power line frequency for EUT
EXT
<EXT mode>
<EXT mode>
>10ms, Pulse width>1ms
>16ms, Pulse width>1ms
TTL/Open collector negative logic
TTL/Open collector negative logic
Also functions for timing reference signals input from an external injection unit
1 SHOT
Single pulse injection to the angle selected by PHASE setting, or irrelevant with the EUT line frequency
Memory
Up to 5 test settings
Power capacity of equipment under test
AC 240V, DC60V, Single phase, DC60V 16A
Power supply
AC100 ~ 240V 50/60H
Power consumption
140VA
Operating temperature and humidity
15~35°C / 25~75% (No dewing shall occur.)
Dimensions
(W) 430 X (H) 249 X (D) 420 mm(Projections excluded)
Weight
Approx. 19kgs