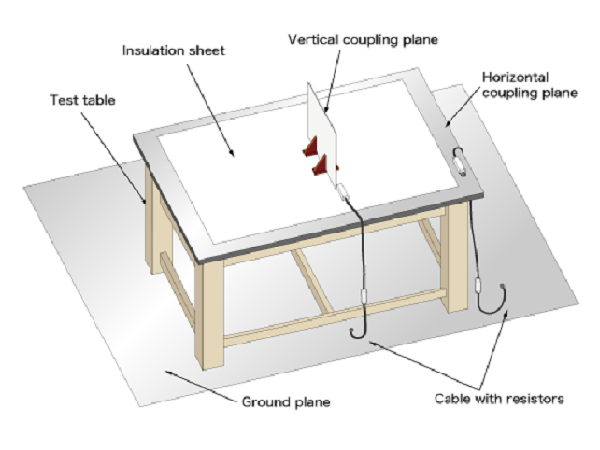 Conforming to IEC 61000-4-2
The Test Environment Model: ESS-801 is a test table and associated items used for discharge immunity tests for table-top type equipment in accordance with IEC 61000-4-2 standard.
ESD Test Environment
Maker:
NOISE LABORATORY CO.,LTD.
Features
A complete package to easily build-up ESD test set-up for table-top equipment called for in the 61000-4-2 standard.
Wooden table minimizes the loss of energy produced by the simulator and the loss of high frequency electromagnetic field, resulting in excellent determination and reproducibility.
It can also be used for other noise tests such as impulse noise tests.
Specifications
■ CONSTITUTION OF ESS-801 ■
Description and Model
Specifications
Quantity
 Material
Test table
Model 03-00039A
Dimensions:
(W)1600x(H)800x(D)800 mm
Weight: 26 kgs
Weight proof: 100 kgs
1 unit
Lauan plywood
Vertical coupling plane
Model: 03-00005A
Dimensions:
(W)500x(H)500x(t) 1.5 mm
1 piece
Plane:aluminum
Stand: bakelite
Center adapter:delrin
Ground plane
Model: 03-00007A
Dimensions:
(W)1800x(H)1000x(t) 1.5 mm
1 set
(3 pieces)
Aluminum
Insulation sheet
Model: 03-00004A
Dimensions:
(W)1450x(D)650x(t) 0.5 mm
1 piece
Polyvinyl chloride
Cable with discharge resistors
Model: 05-00054B
470k ohm x 2 (resister value)
Length: 2000mm
2 pieces
Horizontal coupling plane
Model: 03-00020A
 Dimensions:(W) 1600 x (D)800 x (t)1.5 mm
1 piece
Aluminum
■ TEST SET-UP EXAMPLE ■