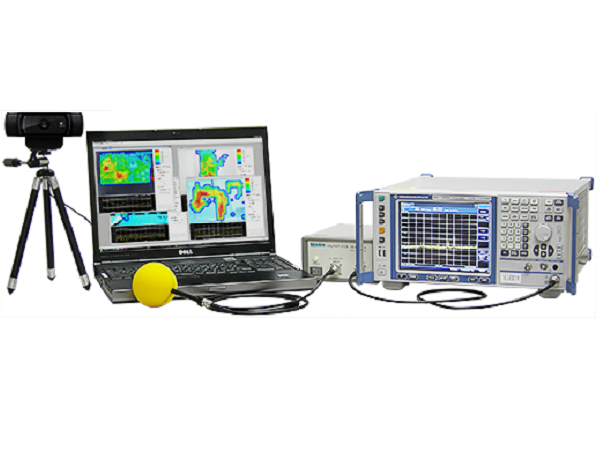 Three-Dimensional Indication (Time, Frequency, Amplitude) Simplifies EMC/EMI Debugging
The EPS-02 series are easy to use visualization tools for electromagnetic emission debugging. The system recognizes the position of the hand-held probe/sensor by using a color recognition technique and stores the measured intensities
at the relevant positions thus creating an intensity distribution map overlaid on the actual image of the scanned object. The system helps you to locate electromagnetic interference sources and to incorporate optimized solutions.
Electromagnetic Field Visualization System
Maker:
NOISE LABORATORY CO.,LTD.
Features
Simple, easy-to-use and convenient visualization of electromagnetic fields
Flexible color recognition setting depending on the color of sensor head enables a reliable sensor image tracking
Intensity distribution map overlaid on the camera picture
Flexibly covers any size of the target object by using a variety of probes/sensors
Compensation available by using the built-in factor editor for user owned equipment as system components
User configurable system
Reads X, Y, Z-axis value and their composite (R) value and identifies the direction of the magnetic field (EPS-02H)
Portable and suitable system for on-site measurements
Specifications
Model Number
EPS-02Ev2
EPS-02EMFv2
EPS-02Hv2
Frequency range
100kHz to 3GHz
in case of ETS-Lindgren probes set
*varies depending on the probe used
10Hz to 400kHz
10Hz to 400kHz
10Hz to 2kHz
2kHz to 400kHz
Frequency setting
Available
Available
Unavailable
Measurement mode
Electric / magnetic
Magnetic field (flux density)
Magnetic field (flux density)/Exposure le
Measurement unit
dBuV,dBm
dBuV,dBm
T, G, A/m, %
Direction
–
X, Y, Z
X, Y, Z, composition
Sensor/probe
φ60/30/10mm loop coil (magnetic field),
φ36mm ball (electric field), φ6mm tip (electric field)
phi100 mm loop coil
phi 30 mm loop coil
phi 100 mm loop coil
phi 330p coil
Probe cable length
2 m coaxial, N male to BNC male
5 m, dedicated
5 m, dedicated
Image/Cell size
picture:640×480dot / Cell size:10~120dot
Trace mode
Single/Free run/Peak hold
Peak hold
File handling
Save/readout/print/export/comment input
Compatible operating system
Windows vista / 7 / 8 / 8.1
System configuration
Near field probe PN7415, Coaxial cable 02-00150A
Probe head cover 03-00079A
RF pre-amplifier 00-00013A Spectrum analyzer (customer supply)
Controller PC (customer supply)
Magnetic field meter
(FT3470-91/92: by Hioki Electric) Oscilloscope (R&S RTO1004/1024-NSL by Rohde & Schwartz Japan)
PC (customer supply)
Magnetic field meter
(FT3470-91/92: by Hioki Electric) PC (customer supply)
Included accessories
common to the three products
Camera, 2m USB cable for camera, tripod, software, USB protect key, instructions manual
Included accessories
LAN cable (cross)
NI-GPIB-USB-HS GPIB controller
LAN cable (straight)
EPS-02H software
USB cable