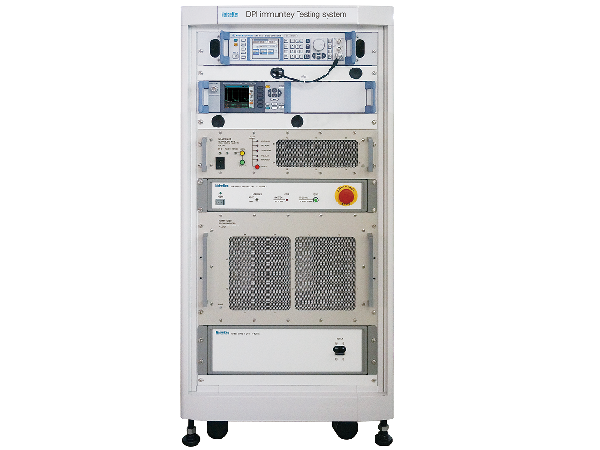 The DPI(Direct Power Injection) immunity test method is an immunity evaluation method for semiconductors (IC) standardized by IEC standards.
This test evaluates immunity by directly injecting RF interference power into the IC power supply on the test board on which the IC to be evaluated is mounted.
In the test, it is necessary to gradually increase the test level (power) for each test frequency and check the performance of the IC each time.
In addition, when a malfunction occurs, it is necessary to record the status of the malfunction, which takes a lot of time and effort.
The NoiseKen's DPI immunity test system performs tests from the start of the test to malfunction determination consistently. This is a revolutionary automation system that saves test time and testers' hands.
Impulse Noise Simulator
Maker:
NOISE LABORATORY CO.,LTD.
Features
Reduces the test time greatly with the multi-sweep function.​
Compliant with IEC 62132-4 (DPI method).
Automatic judgment of IC performance criteria conforming to IEC 62132-1 (Class A/C/D1/D2/E) .
Enables IC malfunction judgment with flexible combination up to ten judgment conditions (eight  types of automatic measuring judgments + one mask test judgment + one serial decode judgment).
Applicable to power ON/OFF by multiple DC power source control to reset IC when a malfunction occurs.
Enables voltage value and reset time setting in accordance with EUT (IC)
 Capable of both TEM-Cell method (IEC 62132-2) and IC Stripline method (IEC 62132-8) testing.
Specification
| | |
| --- | --- |
| Item | Specifications (example) |
| Measurement frequency range | 150kHz ~ 1000MHz |
| Test level | 10dBm ~ 37dBm |
| Modulation method | AM 1kHz・80% |