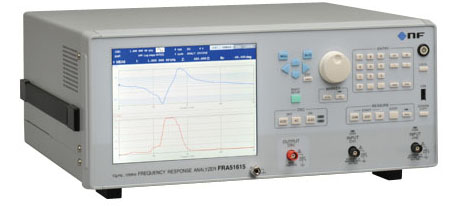 Frequency Response Analyzer FRA51615
Our FRAs are suitable to measure frequency response for many industries from electronic circuits, electronic components, and materials to mechatronics and electrochemical applications. Equipped with the performance and functionality to support many industries, our FRAs provide highly reproducible measurement data and more efficient testing operations.
The FRA51615 is our newest FRA developed to meet the needs and desires of our customers, and to provide the best user-friendliness, down to the smallest detail.
Frequency Response Analyzer
Features
| | |
| --- | --- |
| | Measurement Frequency  :  10 µHz to 15 MHz |
| | Measurement Speed  :  0.5 ms/point |
| | Basic Accuracy  :  Gain:  ±0.01dB, Phase: ±0.06° |
| | Maximum Measurement Voltage  :  600 Vrms |
| | Maximum Input Voltage  :  600 V CATⅡ/300 V CATⅢ |
| | Isolation   :  600 V CATⅡ/300 V CATⅢ |
| | Dynamic Range  :  140 dB |