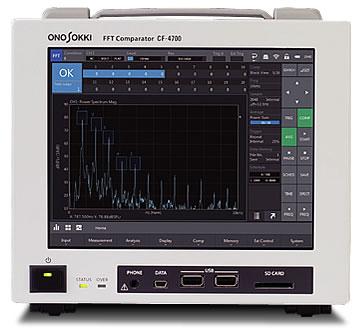 FFT Comparator CF-4700
The CF-4700 FFT comparator is a pass/fail judgment machine used on production lines that is highly effective in accurate quality inspection by analyzing sound or vibration from products. As being incorporated our accumulated FFT technology over the years, the CF-4700 enables pass/fail judgment by extracting the amount of fluctuation of signal size focusing on a specific frequency band.


The CF-4700 comparator has newly adopted the Amplitude Modulation Component Extraction Function, besides inheriting the frequency level- or waveform shape-based judgment functions from the existing CF-4500 FFT model. The new function enables judgment on the basis of the amount of periodical fluctuation of extracted sounds or vibrations. This function is effective for making judgments on fuzzy creaks or chattering sound by a motor-driven device in operation. Moreover, two functions which are included in the Amplitude Modulation Component Extraction Function enable measurements such as 'monitoring of bearing vibrations' (by using the band pass filter and envelope functions), as well as 'auditory inspections of vibrations through headphones' (by using the monitor function which amplifies inaudible vibrations to audible sounds).