Hioki – DT4281
High-End Digital Multimeter
Special Bundle Promotion !!
*Don't Miss it! While Stocks Last!*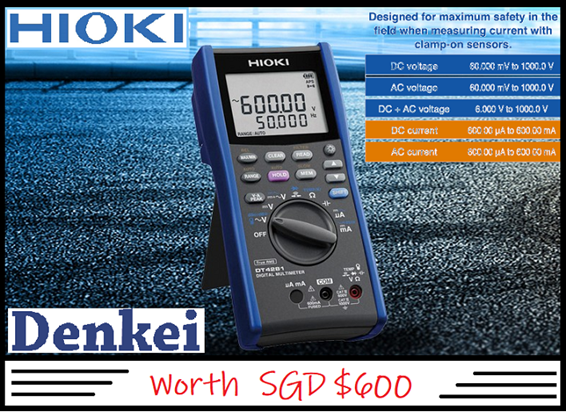 Bundle 1: DT4281 + Communication Package + Calibration Cert & Data

*Worth $915 >>>> NOW @ SGD $418*
Bundle 2: DT4281 + Denkei Voucher + Calibration Cert & Data

*Worth $1,020 >>>> NOW @ SGD $428*
*Terms and Conditions apply*
Designed for maximum safety in the field when measuring current with clamp-on sensors.
DC voltage
60.000 mV to 1000.0 V
AC voltage
60.000 mV to 1000.0 V
DC + AC voltage
6.000 V to 1000.0 V
DC current
600.00 μA to 600.00 mA
AC current
600.00 μA to 600.00 mA
AC clamp-on measurement
Frequency
Resistance
Continuity check
Temperature
Diode test
Capacitance
Conductance
Key Features
• Robust design capable of withstanding a drop from a height of 1 m
• USB communications function supports PC measurements (optional)
• Measures large currents with optional clamp probe
(only for DT4281, which has no 10 A terminal for accident prevention)
• 60000 count, 5-digit display, high-resolution measurements
■ Product Information ■
Accurately measure the voltage output from the secondary sides of inverters by eliminating harmonic components

Measure the fundamental wave alone by eliminating harmonic components with the DT4281's low-pass filter function.
Measure the Ripple voltage of DC Charging Systems

Measure ripple voltage with a superposed DC singal by using peak value measurement and DC+AC voltage Measurement
Clamp-On Sensor based current measurement eliminates the cause of accidents
Mistakenly measuring voltage using the current range may lead to a short-circuit.
The DT4281 eliminates the root cause of such accidents by providing clamp-on sensor based current measurement functionality instead of using conventional probes.
For more details, please call our office at +65 63550851 or email us at denkei@n-denkei.com