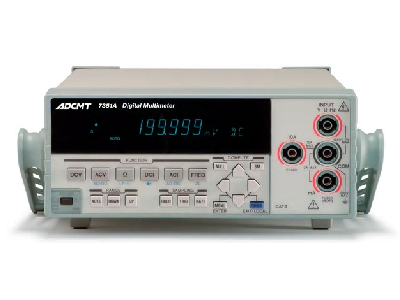 Low-price 5 1/2-digit DMM for general-purpose applications
The 7351A, the 7351E and the 7351E+03 are 5 1/2-digit digital multimetersfor a wide range of measurement applications covering use in R&D andproduction lines.
The 7351A is equipped with GPIB and USB interfaces, the 7351E with a USBinterface and the 7351E+03 with USB and RS232 interfaces.

The 7351 series realizes 46 readings per second (60Hz) at integration timeof 1 PLC that is the highest sampling rate in this class, contributingto the takt time reduction and the quality improvement in production lines.In addition, these models are capable of easy measurement data transferthrough a laptop computer with the USB interface, so that they providesmart data analysis in R&D as well as production lines.
Digital Multimeter
Model:
7351A / 7351E / 7351E+03
Features
Excellent measurement stability
Since the 7351 series have very small dispersion in the voltage and current functions, they are effective in micro voltage or current measurement.
Motor driving current measurement
The driving current of stepping motors can be easily measured by using the DC current measurement function of the 7351 series.
Measurement time
The sampling rate of digital multimeters per 1 PLC is very important for system use to perform high-speed measurment having an induction noise removal function. The 7351 series realize 46 readings per second (60Hz) that is the highest sampling rate in this class.
USB interface as standard
Easy data collection is possible by using the USB interface that is installed as standard. (USB2.0 Full-Speed-compliant)
Free softare to obtain measurement data into an Excel sheet is available.
Specification
7351A
7351E
7351E+03
Maximum display
199 999
Measurement speed (readings/s)
140 max
DC voltage measurement
1 μV to 1000 V
Accuracy (typical value)
0.011%/year
DC current measurement
1 μA to 10 A
Resistance measurement
1 mΩ to 200 MΩ
AC voltage measurement (True RMS)
1 μV to 700 V
AC voltage frequency range
20 Hz to 100 kHz
AC current measurement (True RMS)
1 μA to 10 A
Calculation function
✓
Temperature measurement
N/A
Data memory
N/A
Interface
USB、GPIB
USB
USB, RS232