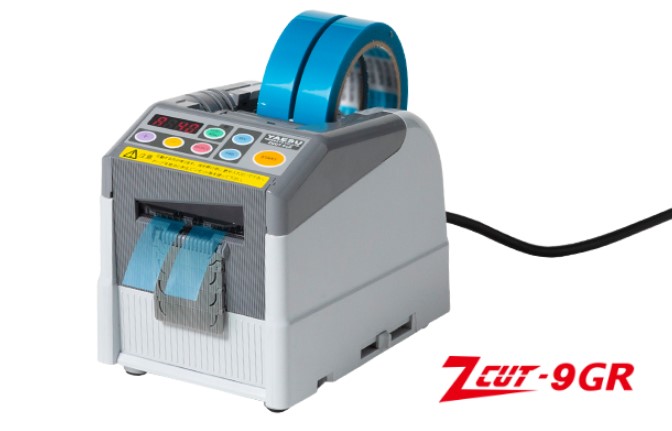 This tape dispenser is capable of cutting different lengths in sequence.

The roller unit can be removed and maintained without tools.
The "ZCUT-9GR" is a tape dispenser with a progressive cutting function that can cut up to six different lengths in a progressive manner. The roller unit can be removed and maintained without tools. The ZCUT-9GR is equipped with a memory function that stores six different lengths in advance, a preset counter, and a loop function.
Tape dispenser
Maker:
YAESU KEIKOGYO Co.,Ltd.
Features
Six different lengths can be programmed for cutting.
Remove Roller Unit without using any tools and easy to take maintenance.
Two roll tapes can be cut at the same time due to Dual Photo Sensor.
Preset Mode and Loop Mode are available.
A cut piece of tape is positioned to take out.
Set a tape without using bobbin.
Non-adhesive tapes can be cut.
Build-in Separator for cutting two rolls tape, Guide Plate, and Blade Oil.
Specification
・Cutting Length 5~999mm
・Tape Width 6~60mm
・Tape Thickness 0.05~0.3mm
・Usable Tapes Craft, PP, Vinyl, Filament, Glass Cloth, Double-Sided, Strapping, Protective Film, Aluminum Foil and Others
・Feeding Speed 220mm/sec.
・Approximately 50pcs/min.
(in the case of cutting 100mm with craft tape)
・Max. Roll Diameter 300mm
・Accessories Separator, Blade Oil, Guide Plate, Power Cord
・Body Material ABS
・Rated Voltage AC 100-240V 50/60Hz 25W
・2A Fuse (Built-In Inlet)
・Dimension 116×140×213mm (W×H×D)
・Weight 1.6kg
*Some of usable tapes may not cut as depends on the material and tape brand.
*Cutting length may be beyond cutting tolerance as depends on the type of tapes.
*Specifications are subject to change without prior notice.