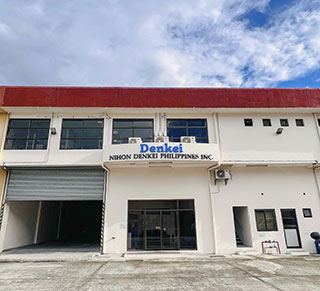 We are a leading company in Electronic Measurement Industry, which has top share in sales amount in Japan. We have recorded our growth and achieved outstanding results with cooperation and mutual reliance through years with Users and Suppliers. We invest in future with our knowledge, information, creativity and ingenuity, which are supported by our continuous endeavors to comprehend trends and dynamics in cutting-edge technologies. Our strength is our steadiness and solidity among this business through strategic foresight we have made.
Since its establishment, Nihon Denkei has consistently been dealing with various types of electronic measuring instruments and systems made by various companies for more than 60 years.In order to satisfy customer's needs, we are offering our accumulated know-how by utilizing more than 5000 business partners' relationships. Please feel free to ask us for quotation or anything about measuring instruments!
We, at Nihon Denkei Philippines, ensures our customers all around satisfaction, in their test and measuring equipments needs, by not only giving the best choices, best prices and quality, but by giving extended efforts, utmost care and service with a smile to our clients, and their growing and constantly changing test and measuring requirements.
Corporate Profile
Registered Trade Name
NIHON DENKEI PHILIPPINES INC
Office
UNIT 3 Orient Goldcrest Laguna Technopark Bldg. 3, East Main Avenue, Lot 3 , Phase 5-B Laguna Technopark SEZ, Binan , Laguna Philippines
Phone
049-530-9553
Representative Directors
KAZUMOTO SATO
Main Line of Business
We, Nihon Denkei Philippines Inc., was established on the year 2007, is a consolidated subsidiary of Nihon Denkei International Center, a trading firm fulfilling the needs of our customers specializing in Test and Measuring Instruments such as; Electronic Measuring Instruments, Environmental Testing Instruments, Scientific/Optical/Precision Devices, Integrated Systems/Customization, Electronics Components, Software, Applied Electronic Measurement, Educational Laboratory Equipments and Calibration Services. With our 5000 makers, we can assure that we can fullfill our customer's requirements without neglecting the importance of quality and safety.
Licenses & Qualifications
BUSINESS PERMIT Sta. Rosa : No.:3383
PEZA No.: 13-215
Company History Timeline
2007
Sep
Nihon Denkei Co. LTd( Philippines Representative Office )
Unit 1002 Rufino Bldg. 6784 Ayala Avenue co. VA Rufino St. Makati City Philippines 1226
2014
Jan
Nihon Denkei Philippines Inc.
MEC, Bldg 5, 105 Industry Road Laguna Technopark Sta. Rosa City Philippines 4026
Organization
President
Kazumoto Sato
Deputy Director
Roel Sereno

Sales Engineer
Ken Kondo
Reyneil Santiago
Homer Diaz
Service Engineer
Alvin Pena
Sales Assistant
Nedie Moneda
Import & Export
Rochelle D. Caraig
Logistics & Warehouse
Luis Del Rosario.
Accountant
Ail Manaig
Assistant Accountant
Jesa Santos.